Some thoughts about the first of these events by our Head of Department, Associate Professor Dr Sian Rees…
A range of fascinating insights into the relationship between sports public relations and journalism were explored at the Inaugural Swansea University Sports Symposium on Thursday 20th February 2020.   Compère Iwan Williams welcomed guest speakers Geoff Williams (Head of BBC Wales Sport), Sophie Davis (PR & Marketing Coordinator at Swansea City FC) and Ben Donovan (former Swansea City and Football Association of Wales media manager for Wales' men's and women's football squads).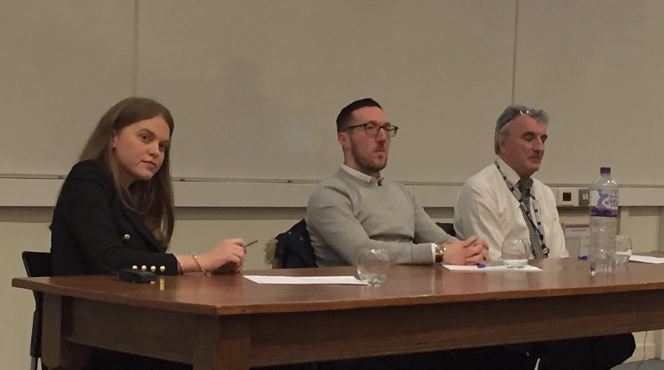 Since starting in grassroots journalism in 1977, Geoff Williams has witnessed significant change in sports journalism practice and challenges. He learnt his trade at a time when journalists had unbridled access to players and coaches at training grounds and matches, but now finds himself balancing the needs of governing bodies and clubs who wish to control media messages. Journalists nevertheless still have the opportunity to use their relationships with club officials and communicators to ask the right questions and dig out interesting, human interest stories. He feels very strongly that media organisations like the BBC have a strong role to play in our digitally proliferated world in terms of providing factual, accurate and verified sports news stories, reported without favour or fear, which audiences can therefore trust implicitly. Geoff has no doubt that digital is the pathway to future success for sports media and he explained how the BBC re-cuts content for different social media platforms, closely monitoring how well content is received to learn and adapt to viewer demands.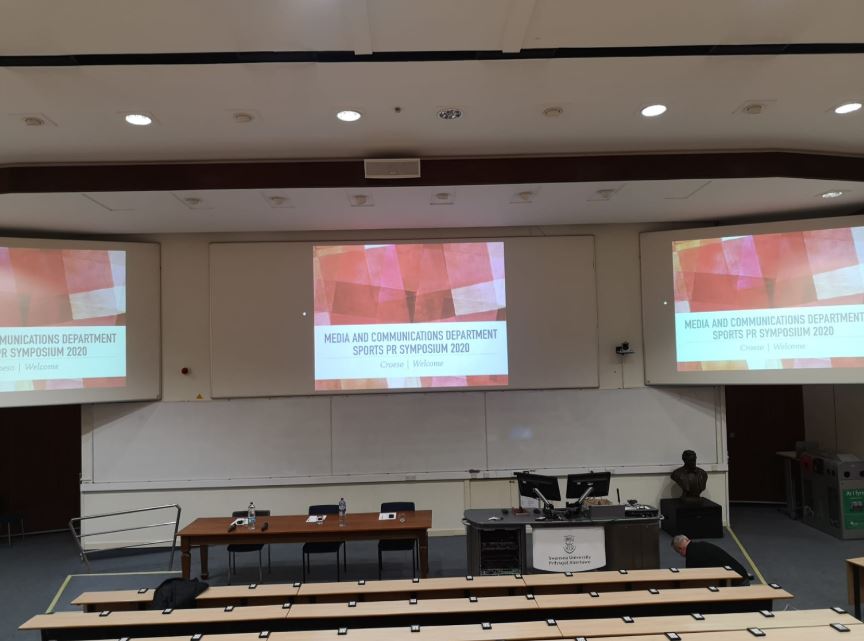 Sophie Davis, who studied undergraduate Media and Communications at Swansea University, followed by an MA here in Communication, Media Practice and Public Relations, volunteered at Swansea City FC from the age of sixteen onwards doing long hours of sometimes repetitive work, but this led to amazing experiences, such as travelling with the women's team to Romania for the Champions league and pre-season training with the team in New York. Now a full-time communications employee, she explained how Swansea City FC has prided itself on being an open club, determined to work closely with traditional local, national and international sports news journalists, building positive reciprocal relationships. However, she sees social media and the fact that players are now celebrity commodities, as drivers of major change. The club takes this seriously providing social media training for the U18 and U23 academy squads to help them cope with the challenges of managing and producing social media content in an appropriately professional form, but more importantly, supporting them in how to handle malicious and unwelcome content.

Ben Donovan, who worked as media manager for Swansea City and then the Football Association of Wales, also emphasized the need for strong relationships between public relations professionals and journalists in order to help facilitate stories. If sports PR officers are doing their jobs properly then they will have less need to play the role of gate keeper and crisis manager and instead can be part of a process of negotiating when certain information is released. He also has no doubt that social media has changed the way content is produced. Players have become digital brands in their own right and he sees evidence of younger players embracing the nature of social media more positively and allowing their personalities to show, citing Raheem Sterling as an excellent example of a social media pioneer who has helped shape the discussion around football and racism in a very positive and impactful way.
All three panellists emphasized the importance of seeking work experience and being prepared to put in time, effort and enthusiasm to gain experience, confidence and connections in the industry in order to stand out in the job market. To quote Sophie: "The social media manager was ill one day so I volunteered and I've done every match since then!" The Sports Symposium is a cornerstone of our new third year sports PR module and will also form an important part of the new MA Sports Communication and Journalism which is currently in development for launch in September 2020. Watch this space!