Warm congratulations to recent graduate Cai Rhys who can now justifiably call himself an award winning filmmaker. One of his lecturers Non Vaughan Williams explains…
Rydym wrth ein bodd bod Cai Rhys, cyn-fyfyriwr BA Cyfryngau a Chysylltiadau Cyhoeddus wedi dod i'r brig yng nghystadleuaeth Her Ffilm Fer Hansh S4C, gyda'i gynhyrchiad Y Gyfrinach.
Roedd cystadleuwyr yn gorfod cynhyrchu ffilm fer o fewn 48 awr penwythnos diwethaf, ac ar ddechrau'r cyfnod cyhoeddwyd fod rhaid cynnwys y thema o hapusrwydd o fewn y ffilm, yn ogystal â chynnwys tro yn y cynffon neu cliffhanger. Nododd un o'r beiriniaid Gwenllïan Gravelle, comisiynydd drama S4C 'Y tair ffilm ddaeth i'r brig i fi oedd Brwydro, Y Gyfrinach a Gêm o Gariad, tair ffilm wahanol iawn. Ond gan ei fod wedi ymateb yn iawn i'r brîff, Y Gyfrinach sy'n mynd â hi.'
Yn ogystal â serennu yn y ffilm ei hun, dywedodd Cai iddo gyfarwyddo a saethu y ffilm gyfan ar ei ffôn symudol. Yn ôl Non Vaughan Williams, uwch-ddarlithydd Cyfryngau a fu'n ei ddysgu ar fodiwlau ymarferol, 'Mae'n bleser gweld talent myfyriwr creadigol fel Cai yn cael ei gydnabod, a gobeithio fydd y wobr hon yn rhoi hwb pellach iddo ddilyn gyrfa yn y maes ffuglen.' Gobeithio wnewch chi fwynhau gwylio Y Gyfrinach ac eraill ddaeth i'r brig: https://www.herffilmfer.cymru/y-ffilmiau/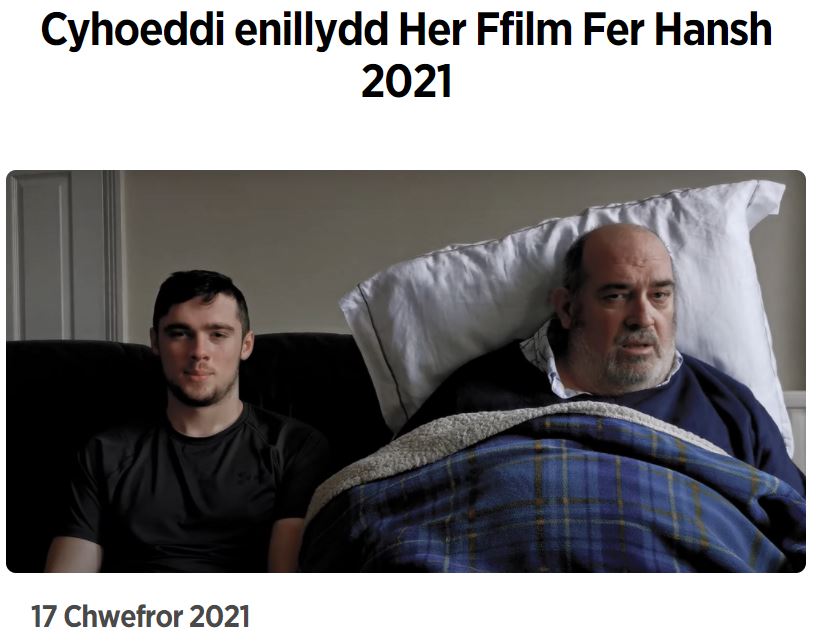 How would you respond if you had 48 hours to create a short film reflecting 'happiness' to celebrate LGBT+ Month? This was the task set by S4C's Hansh Short Film Challenge and Welsh medium Media and PR graduate Cai Rhys responded by creating Y Gyfrinach (The Secret), focusing on a character's decision to be true to himself. As well as scripting, directing and shooting the film, Cai appeared on screen alongside his father and his efforts have led to him winning the competition. One of the adjudicator's Lee Haven Jones noted, 'It's astounding to me that I have spent 16 weeks creating an episode of Dr Who for New Year's Day, and the people who have taken part have spent 48 hours to create films that are just as worthy as an episode of Dr Who! It's wonderful that people have managed to do so much in such a short space of time.' Cai will receive a prize of £1,000, as well as receiving a VIP pass to the Iris Prize LGBT+ Film Festival in Cardiff in October, where Y Gyfrinach will be screened. But you can view Y Gyfrinach here, as well as the other commended entries: https://www.herffilmfer.cymru/en/the-films/
Here's the film – well done from all of us, Cai !