Harnessing Beauty – A Big Topic In Welsh Language Magazine 'Cara'
Ffion Jones, a 3rd year student of Media and Communications, has written an article for the Welsh language magazine 'Cara'. The topic of the article is a multi-platform online project she has undertaken for one of her Welsh medium modules, and the focus of this work is to offer advice on how to use make-up as a way of boosting self-confidence when dealing with various skin conditions.
Yn rhifyn Gwanwyn y cylchgrawn 'Cara', mae'r prosiect aml-blatfform Harneisio Harddwch wedi ymddangos mewn print am y tro cyntaf. Mae'r erthygl yn esbonio pwrpas y prosiect, yn ogystal ag adran ychwanegol sydd yn sôn am ddeg 'top tips' am sut i ddefnyddio gwahanol fathau o gynnyrch colur ar gyfer cyflyron croen.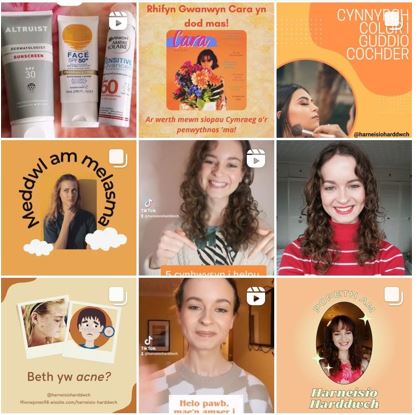 Ond beth yw Harneisio Harddwch yn y lle cyntaf? Prosiect ar-lein sydd yn cwmpasu TikTok, Instagram a blog yw e, yn cynnig cyngor am sut mae colur yn gallu bod yn arf defnyddiol wrth ddelio gyda chyflyron croen amrywiol. Mae cyflyron megis acne, rosacea, melasma a mwy yn gallu effeithio ar ein hunan hyder, ac felly ffordd o deimlo'n bwerus a llawn sas yw arbrofi gyda chynnyrch harddwch sydd yn gallu trawsnewid eich hwyl.
Rwyf wedi profi acne hormonaidd yn bersonol dros y blynyddoedd diwethaf, felly dwi'n cydymdeimlo gyda'r rhai ohonon ni sydd yn brwydro gyda'n croen dydd ar ôl dydd. Mae cochder, creithiau a phigment tywyll yn gallu bod yn anodd cuddio, ac felly mae'n help i ddarganfod colur sydd yn gallu creu effaith o gael croen clir a llyfn. Peth positif yw e i feddwl bod yna adnoddau ar gael sydd yn gallu gweithio i godi ein hysbryd, hyd yn oed os mai dim ond am gyfnod byr ydyw.
Mae 'Cara' yn cael ei werthu mewn siopau Cymraeg ar hyn o bryd, ac mae'r rhifyn newydd sbon ar gael nawr. Os ydych chi'n hoff o faterion cyfoes, iechyd, harddwch a mwy, mae llond gwybodaeth ynddo i ferched i gyd.
Mae Harneisio Harddwch o dan y cyfrif @harneisioharddwch ar TikTok ac Instagram, a chyfeiriad y blog yw www.ffionwjones98.wixsite.com/harneisio-harddwch. Os rydych chi eisiau tips cyffrous a theimlad o beidio fod ar eich pen eich hunain gyda'ch croen chi, dilynwch i greu cymuned agos a hwyl!