Final year UG student Zoe Duggan explains how a former student provided some golden tips about starting our media careers…
Recently, the third year Media and Communications' Internship class welcomed two guest speakers, both ex-students, who gave presentations on how to achieve success after graduation. The first steps, we heard, should happen while still at university, and as a member of the class, I found this advice particularly helpful. I am currently involved in work experience with a local video production company – HHA Productions – where I am responsible for research, crowd funding and getting involved with filming and editing. It's all proving to be a great learning experience and should really bolster my CV.
Daisy Sawyer and Brengain Jones both graduated from our department, Brengain having done so through the medium of Welsh. The pair told us about their individual career paths and advised us how to enter the media industry and find suitable careers.

Daisy (@_daisysawyer) works Seeker Digital attributes her success in job seeking to the online platform LinkedIn, describing it as her "digital business card". She said that an active social media presence is important for securing a job, and a vital part of finding contacts within the industry. She told us that it is best to "be yourself" and to balance personal and professional content on social media profiles, suggesting that this helps to show personality to potential employers. Daisy also advised us to never pass up an opportunity and to never give up – during her time at university, she sent a total of 94 emails seeking work experience and only received 2 positive responses. Approach companies you want to work for she said, and avoid fearing job recruiters as these will help us reach our goals.
Finally Daisy specified "positivity, passion and drive" as the key traits we must try to develop.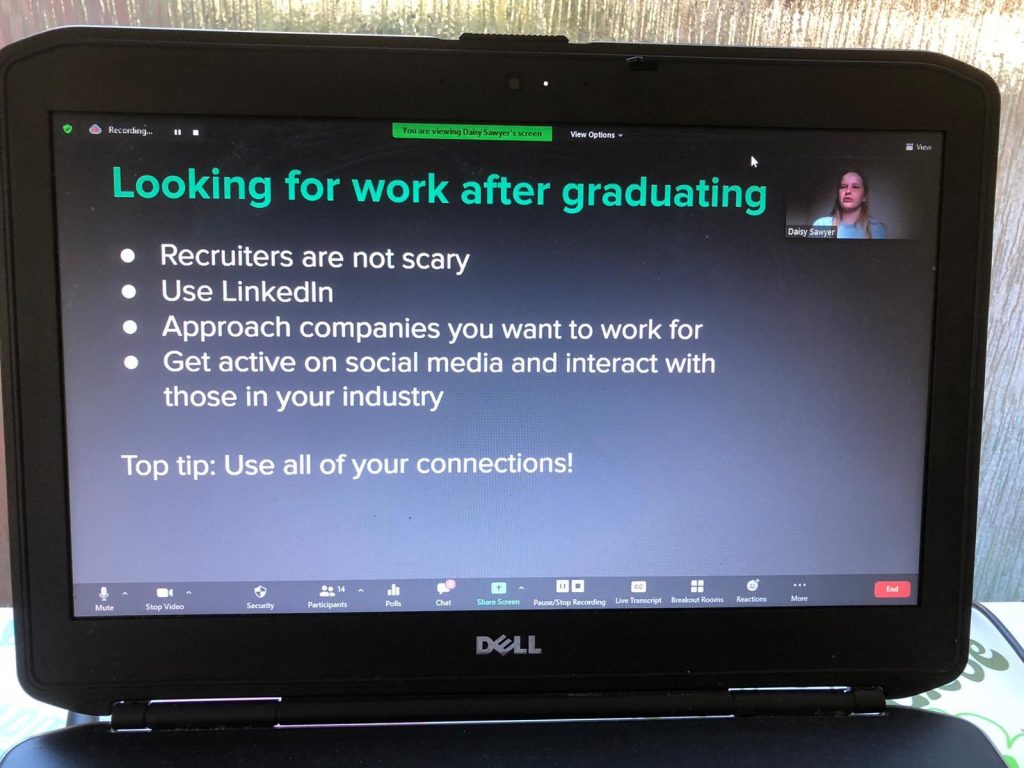 Brengain Jones – second assistant director for north Wales media company Cwmni Da – talked about how work experience and dedication are critical to job seeking. She urged students to "jump at the chance for work experience" while at university, adding that she had undertaken work experience during each of her three years at Swansea. Like Daisy, she also told us to take every chance that came our way, and that any experience is good experience. Brengain's first job outside of university was a freelance job, contracted for 3 weeks but later extended to 6 weeks. Her current job was originally a 6-month contract that has been extended over time. Each experience, she told us, is an opportunity to make contacts and that these contacts could carry you to new opportunities as another one closes. She urged us to keep applying for jobs. While Daisy and Bengain found success through different routes, both demonstrate that hard work and motivation are the keys to success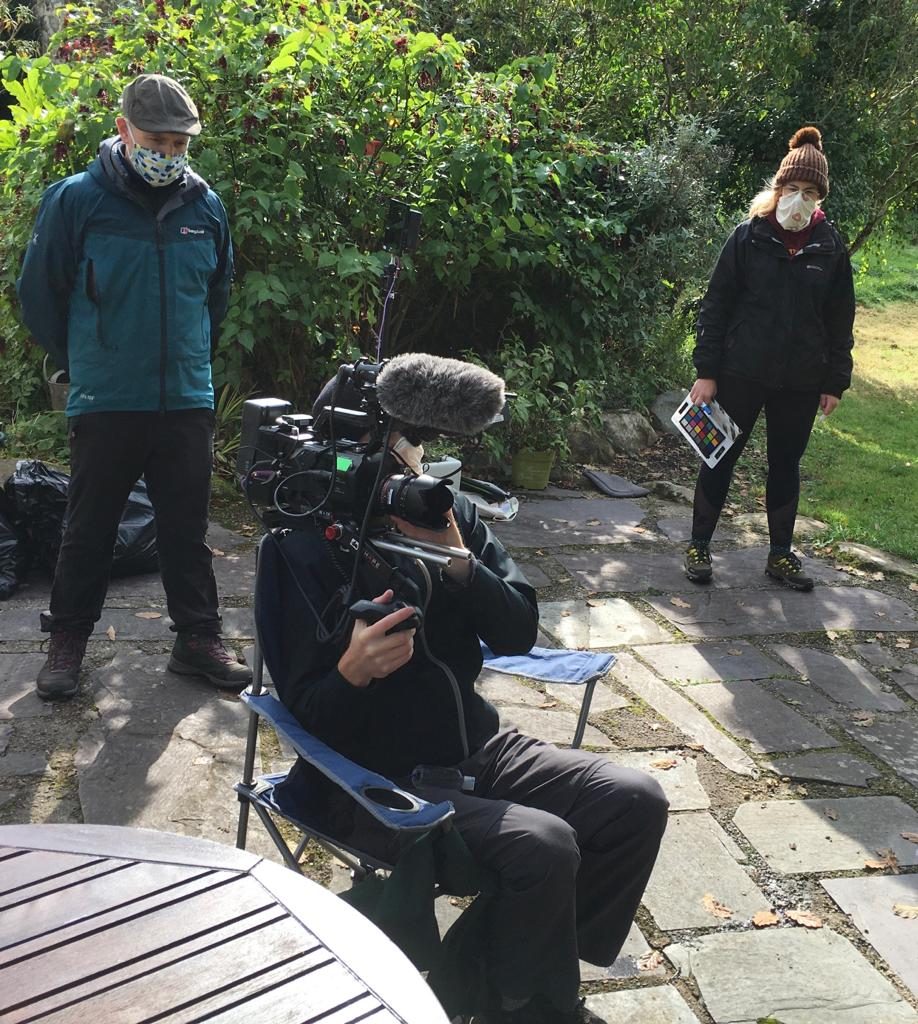 Liam Thomas is also following the Internship module and is following an internship with weekly Welsh language news magazine Golwg, he also appreciated the opportunity to hear from recent graduates.
Roeddwn wrth fy modd i glywed am yrfa Brengain Jones a beth mae hi wedi mynd ymlaen i wneud. Mae hi nawr yn ail gynorthwyydd ar Deian a Loli sef cyfres i blant. Mae'r rhaglen yn ogystal â'i darlledu ar S4C bellach yn cael ei darlledu yn Ffrainc hefyd gyda'r gobaith o gael ei weld gan bobl ar draws Ewrop wedi iddi gael ei gyfieithu. Fe fabwysiadodd Brengain nifer o sgiliau a dealltwriaeth ar ôl cwblhau cwrs BA Cyfryngau a Chysylltiadau Cyhoeddus ym Mhrifysgol Abertawe a dywedodd bod hyn wedi ei galluogi i wneud y swydd mae hi yn ei gwneud nawr.
Yn ôl Brengain, wrth chwilio am brofiadau a swyddi gallwch un o'r pethau pwysicaf i'w wneud yw creu CV oherwydd gallwch ei newid yn gyson a nodi'r sgiliau a phrofiadau rydych wedi eu derbyn.
Felly mae'n amlwg fod Brengain Jones wedi llwyddo gyda'i gyrfa ac mae hyn yn ddylanwad ar fyfyrwyr eraill. Roedd clywed am brofiad Brengain wedi fy ysgogi. Ar hyn o bryd rwyf gyda chwmni Golwg yn gwneud interniaeth ac rwy'n cael blas ar greu erthyglau ar ôl gwneud y gwaith ymchwil disgwyliedig. Hoffwn fynd ymlaen i wneud gwaith o'r math yma ac felly byddaf yn aros i weld beth sydd ar y gorwel, ond ar ôl clywed am brofiad Brengain Jones dwi'n gwybod bod unrhywbeth yn bosib os ydych chi'n ffocysu ac anfon CV i gyflogwyr yn y maes.
Ond sut brofiad oedd dycwelyd i'r dosbarth i Brengain?
"Mae'n grêt cael y cyfle i ddod nôl i'r brifysgol i rannu fy mhrofiadau i hefo'r myfyrwyr (er mod i wedi colli cael dod nôl i'r campws ei hun). Dwi bellach yn gweitho fel 2il Gynorthwy-ydd (2nd AD) ar Deian a Loli ac yn mwynhau'n arw, felly mae cael rhannu tips a gwybodaeth i geisio helpu'r myfyrwyr i geisio dorri mewn i'r diwydiant yn fraint."