Dad's memories of Swansea University in the early 1950s…
Staff member Dr Richard Huw Thomas has some special family connections to Swansea University. All is revealed in this interview with his Dad, Dr Richard Howard Thomas, just six weeks before he sadly died…
My Dad was an academic, and as a very rebellious teenager, I was never slow to tell him that I thought his job was completely ridiculous. My resolution as a 17-year-old was to do anything apart from go to university or do anything that resembled following in his footsteps. When much later in my life I embarked on my own academic career, he was gracious enough never to remind me that I'd made such a major U-turn in finally joining "the family firm". There is something about classrooms that us Thomases are unable to resist. He, I, my sister and one of my daughters are all teachers.
But this is about my Dad and his time on Singleton campus. Now widowed and in his 87th year, he and I often chat about various aspects of Higher Education. So in our University's centenary, I was interested to find out what it was like almost 70 years ago when Dad walked the corridors that we all walk today. I began by asking him about his association with Swansea University…
I was a student at Swansea between 1951 and 1957. I did an honours degree in Applied Mathematics, and then a PhD. I followed in my brother Lance's footsteps by coming to Swansea. He studied Physics and finished his PhD in 1954. We overlapped by 2 years, and I remember in my first term I thought I had done OK in Physics, but he really tore me off a strip and told me that it wasn't a good enough. I got a lot more marks the next time! Lance was a good man and like a father to me. He married Helen, who was a local girl and also a Physics student at Swansea. She lived in Mirador Crescent in the Uplands (Note: That's just behind Bar St James). Lance eventually became a Professor and was Head of Physics at Aberystwyth.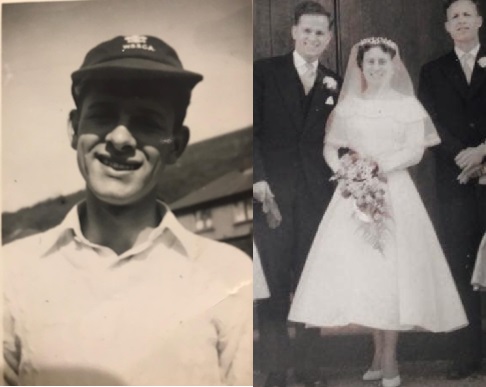 So what was life like as a student?
I really enjoyed my time in Swansea. If I wasn't in lectures, I would just spend my time doing old exam papers. We had no coursework, just final exams at the end of the third year, so essentially from the moment you arrived, you were preparing for those.
The relationship between staff and students was very formal. The staff tended to wear gowns, and we would never dare address them by their first names or anything like that. It was always by their titles and surnames. The lecturing style was all chalk and talk. We didn't provide feedback about the courses like your students do now – it was a different world back then. There were some really inspirational lecturers, and I recall one called Gareth Evans. He was very unorthodox, but you really knew your stuff after one of his classes.
I had a state scholarship, and never felt too badly off for money. It meant that although I wasn't earning anything to contribute to the family household, I wasn't a drain on my parents either. In the summers, I used to work as a labourer down at the docks in Port Talbot. I was pretty naïve in those days and heard some new words that I hadn't come across before!
So where did you live and what sorts of things did you do?
There were no halls then, apart from the hall for the girls. That was Beck House on Sketty Road. I lived in digs, lodging with Mr and Mrs Prater. When you were about 15, we moved to a new house and we got chatting to our new next-door neighbour, Carol. I discovered that the little granddaughter who often visited Mr and Mrs Prater almost 30 years earlier was actually Carol! Her grandmother was a fantastic landlady – she was a brilliant cook and I was very happy there.
I lived quite a dull life for a student I suppose. There was no riotous living or anything like that. Each evening I'd study from about 6.30 to about 8.30 and then I'd go to the Student's Union which was called Maes-yr-Haf ("summer fields").
Hang on, Maes-yr-Haf ? I recognise that name…
Yes, that was the name we gave that new house when we moved in! Anyway, every night I would go along to the Union and drink Ribena. I never drank alcohol until well into my PhD, and only ever got drunk once. I rarely went into town, but I used to do a lot of walking along the beach in the evenings. It was a lovely place to be. My family home was only a few miles away in Port Talbot, and I used to go home about once a fortnight. Once I met your mum, I used to go home more often than that, of course.

I played a lot of cricket for the University when I was a student. All the sport was played on Wednesday afternoons, even in those days. We played on the sports field that's still there on Mumbles Road. We did pretty well and used to enjoy a couple of needle matches. We always used to beat Cardiff, but Aberystwyth were much tougher to play. I played cricket with a chap from my class called John Meurig Thomas, who became Director of the Royal Institution of Great Britain and the Master of Peterhouse College, Cambridge. He was a good cricketer. Another lecturer I remember was the novelist Kingsley Amis – he taught English at Swansea the whole time I was there.
What was doing a PhD like back then?
There was no middle stage between an undergraduate and PhD then, and I wasn't a great postgraduate student to be honest. On reflection, I could have really done with doing a Masters if such a thing had been possible, since I wasn't ever entirely sure I really wanted to do a doctorate. I was never confident that the work I was doing was of the required quality. I left Swansea in 1957 without finishing the PhD.
What did you do next?
I went to teach in Thornbury Grammar School, near Bristol for a year. I worked pretty hard every evening, but still didn't seem to be making much progress with my PhD. So I moved jobs, and your mum and I went to work for De Havilland Propeller Company in London. My new job involved the sort of Maths I was doing in my thesis, and I worked on the development of a rocket called "Blue Streak". It was a terrific supplement to my education – I learned so much about the real application of Maths while I was there. It gave me some new impetus, and I finished my PhD about 18 months after we started working at De Havilland. Your mum used to type up my thesis every evening after she finished her own work.
We came back to Wales, and I got a job as a lecturer in what was then called UWIST, in Cardiff. It stands for the University of Wales Institute of Science and Technology. I was there for 7 years, before I started working for the Open University. I stayed for 20 years until I retired, and was the Dean of the Maths faculty for a while. I've always worked since though, continuing teaching as a part timer for the Open University and Cardiff University, then in a sixth form college. As you know, I only gave up working for the Welsh Joint Education Committee just a few months ago.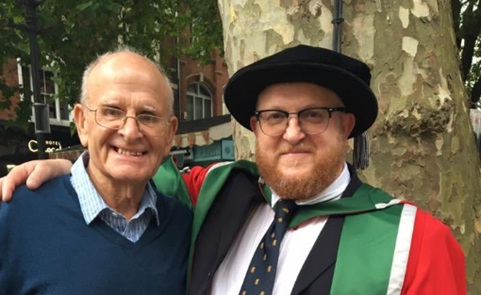 So you are actually really retired this time for good now?
Yes, I think so, but you never know !
What was your thesis about? Please remember that I have to write this up and you know what happened in my science "O" levels.
Yes, I know (at this stage he delivered a short critique of my mediocre performance in school. Let's just say it wasn't the first time I had heard it 🙂 ). In the end, I was quite pleased with my research. I was looking at fluids and their characteristics of viscosity and elasticity. I was interested in how they behaved when they were stirred at different speeds. Imagine stirring a cup of something – some liquids would create a dip around the spoon, and others would climb the spoon. My research was about modelling the circumstances when they might do both at the same time.
Ok, that's enough of that – that scientific stuff is too complicated for me. You and I strolled around the campus together a few months ago and you noticed a lot of changes since you first arrived as a student almost 70 years ago. What memories do you have of Singleton campus?
Well the big building – Fulton House – was there, but it wasn't as big back then. If you look at the campus from the road, as you come up the drive there used to be a green shed – you told me that it would be nearby where the Wallace Building is now. Lance used to do his research into Atmospheric Physics in there. They were actually sending signals into space from a wooden shed ! The Physics department was housed in a prefabricated building in those days.
I enjoyed being on the campus. I spent a lot of time in the red brick library opposite your Kier Hardie building. That library building was a star attraction and was considered to be very state-of-the-art both inside and out. My usual day consisted of working in there and then having a break at around 3.30 each afternoon, when I'd go for a coffee in the old refectory in the Abbey.
Come on then, I can feel you want to tell your Duke of Edinburgh story…
Only if you insist. When I got home to my digs one day in 1952, Mrs Prater told me the University had left a message that I should go back to talk to them. I was nervous going back and couldn't think what I'd done wrong. When I arrived, they told me that the Duke was coming to the University and that as the Chancellor, he'd be wearing this really long, heavy robe. They wanted me to be the one that carried the gown behind him, like a pageboy at a wedding. The big day came and I was in position, all dressed up in my smartest clothes in good time for his expected arrival at 3pm. But he was late, and when he finally arrived to where I was, he asked me "how long have you been here?" and I replied "about 15 minutes". Afterwards, I realised he probably meant how long had I been studying at the University. No wonder he looked a bit confused.
It's a long time since you did your PHD, but do you have any advice for anyone starting or mid-way through one that would stand the test of time?
Keep going. Persevere with it and don't give up like I almost did. If you get the chance to see how your research fits into the real world like I did then you should take it. It might give you a real shot in the arm when you need it the most.
As someone who has been associated with it for just about 70 of its 100 years, do you have any message for the students and staff at the University now?
First of all, I am very happy that you work at Swansea, and that we have this continuing family link to the University. I enjoy hearing about the things that you are all involved with and how the University is thriving and doing so well. I wish everyone associated with the University a wonderful centenary year and all the best for the future.
That's great Dad, thank you. One final question about something that's bothered me for many years. Can you explain why, at my brother's christening, you made me wear shorts and a bow tie, and then got as far away from me as possible like it was nothing to do with you?
By then I already had a good idea about what sort of teenager you were going to be. I was just getting my retaliation in first.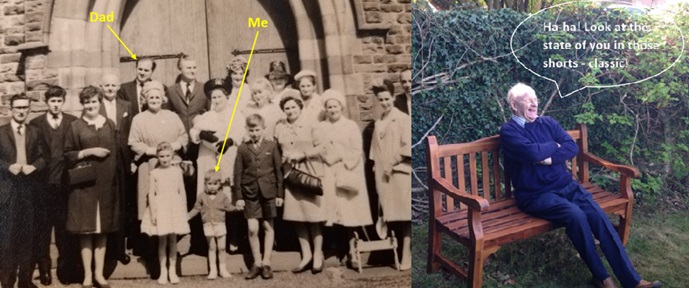 Cheers Dad 🙂