There was more great news this week, as Swansea University was rated in the top 30 UK institutions in the 2022 Complete University Guide.
For the Media and Communication department, the news was also extremely good, as we were rated 10th overall out of 97 departments across the UK. But the good news didn't stop there – we are rated FIRST for student satisfaction.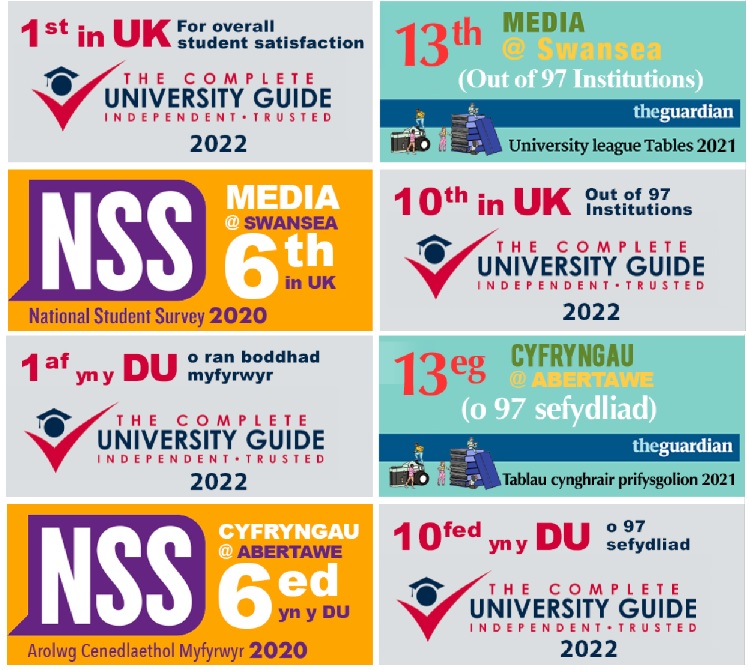 Head of Department, Dr Sian Rees expressed delight on behalf or the staff team, noting "the clear reflection on the real focus we have on our students and the pride we take in delivering impactful, effective teaching, as well as providing an environment in which students can flourish".
"Our strength seems to be the ability to combine in depth academic endeavour with real-world practice and employability opportunities" said Sian, adding that "it's great to be leading such a dedicated and committed academic team".
The department's Admissions Officer Iwan Williams echoed Sian's sentiments.
'Being ranked the best Media Department in the UK for student satisfaction is a great result', he said, adding that 'I'd like to think that it reflects the student-centric culture of our department, where we always try to ensure that our students get the best possible return on their investment, in terms of their learning experiences, their future employability and the academic mentoring they receive.'