Visiting Undergraduate student Fynn Sawitzki was watching the second of Tuesday's panels…
In the second session of the Global Summit speakers, former Secretary of State Clinton, Katrín Jakobsdóttir, Ellen Johnson Sirleaf and Alexander Stubb discussed the problems associated with the eco crisis and some of the most important problems it has generated.
The speakers all brought important perspectives. The Prime Minister of Iceland Jakobsdóttir explained that Iceland aims to be a carbon neutral state by 2024 and already have a system of geothermal and hydro energy in place.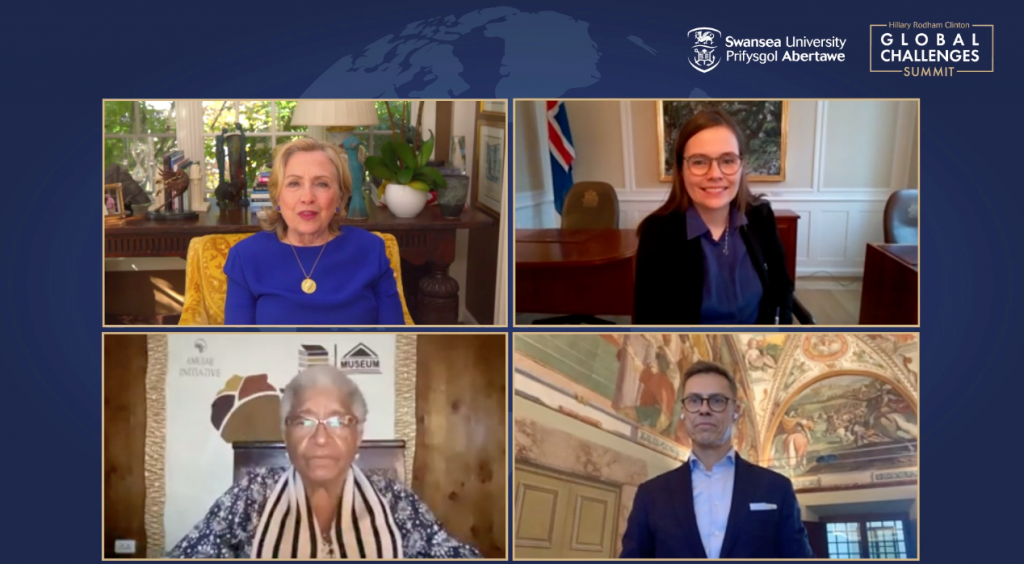 Former Prime Minister of Finland Alexander Stubb told us that the climate crisis could be solved with greater regulation, financial aid and most importantly of all, innovation.
Ellen Johnson Sirleaf – the former President of Liberia – added a particularly pertinent perspective. While Liberia and the global south aren't responsible for the climate crisis she suggested, they and other surrounding countries continue to be severely impacted by rising sea level and droughts, which in turn lead to food shortages. More than anywhere else, she explained, people in Africa are dependent on their surroundings. They are people living at the sharp end of these compromised environments and should be protected with a firm global commitment to achieve this.
The Climate and Food Vulnerability Index found that the 10 most food-insecure countries in the world generate less than half a ton of CO2 per person and that collectively, they generate just 0.08% of total global CO2.
Furthermore, those at the highest risk of these nutritional deficiencies are the people that have the least diverse diets and least intake of animal-sourced foods, such as meat, milk, eggs, cheese and yogurt.
The big takeaway from this fascinating panel was that those countries who put us in this perilous situation are not necessarily those who suffer the most and it is they who should take responsibility and try change the current state of emissions.