Lisa Smithstead, Swansea University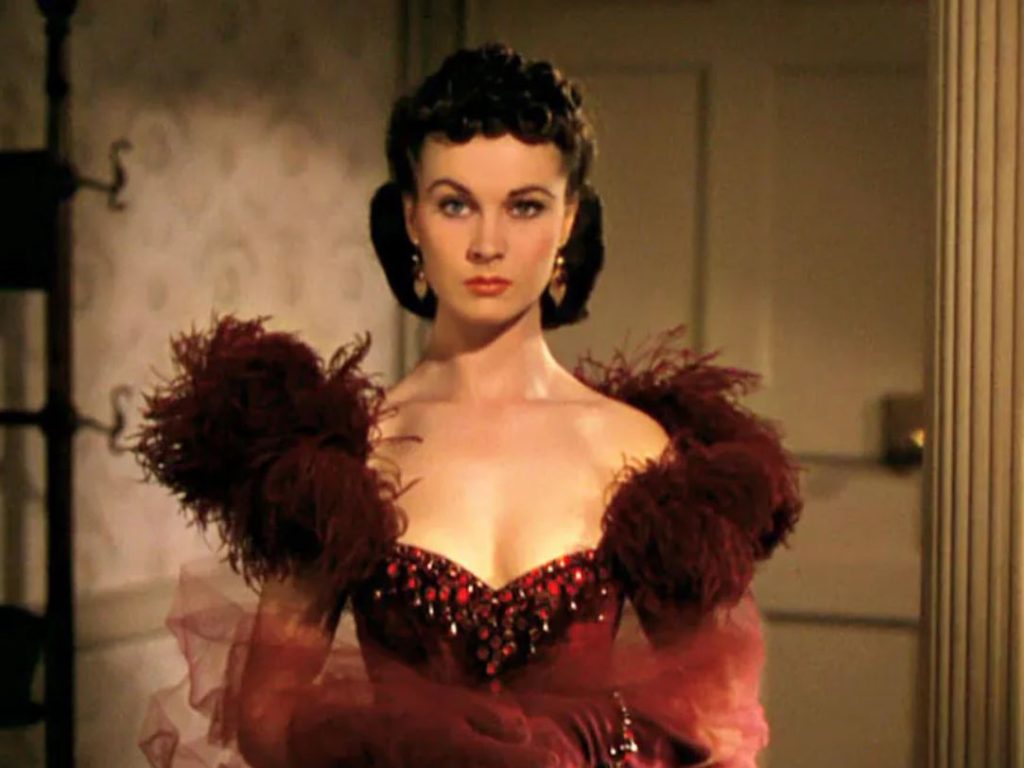 Vivien Leigh's achievements in cinema were extraordinary. Known for her glamour and beauty, the actress rose from a bit-part player to become one of the most famous women in Hollywood, playing Scarlet O'Hara in Gone with the Wind in 1939. And November 5 marks the 110th anniversary of the birth of the two-time Oscar winner.
But Leigh also worked in an era of deeply ingrained inequality, sexism and racism in the Hollywood industry. The lessons from her life and career arguably take on a new meaning in the wake of #MeToo and #TimesUp, and the changes they have wrought on women's agency and equality in the industry since 2017.
Career control
Like many of the whistleblowers of #MeToo, Leigh arrived in Hollywood as a young and highly ambitious actress hoping that a personal connection with an important industry figure would lead to her big break. She put herself in the running for one of the most coveted roles of all time in Gone with the Wind by showing up on set with her then lover, actor Laurence Olivier, demanding the attention of producer David O. Selznick.
The career which followed was punctuated by two Best Actress Academy awards and public struggles with mental health. It was also presided over by powerful men in the industry, from director Alexander Korda to Selznick.
Leigh worked in a period where female stars were contracted, controlled and crafted. Her working partnership with Olivier afforded her a mentorship which she deeply valued, but also placed her in his shadow. Theatre critic Kenneth Tynan famously hounded her with negative reviews of her theatre work – always in direct contrast to his admiration of Olivier's achievements.
Letters from her archive, which I have studied, also reveal her difficult experiences on set, particularly during Gone With the Wind, where she was made to work 16 hour days for six days a week with extremely limited rest and sleep, often in conflict with her director Victor Fleming.
But Leigh worked in an era where outrageous misogyny was an industry norm in many regards. Take, for example, the treatment of Judy Garland on the set of The Wizard of Oz by the ultra-powerful producer Louis B. Mayer. Garland, who was just 16 at the time, was subjected to sexual harassment and physical and psychological abuse throughout her time at MGM.
Leigh also crossed paths with stars whose abuse at the hand of male industry figures has been well documented. Marilyn Monroe took over the role that Leigh had played on stage in The Prince and the Showgirl in 1957, for example, co-starring with Olivier. Monroe had written a piece for the fan periodical Motion Picture Magazine a few years earlier titled Wolves I Have Known, calling out the sustained sexual harassment she had faced from men in the industry from the earliest days of her career.
And Leigh herself portrayed a character who suffered at the hands of abusive and controlling men: most famously in her role as the ageing southern belle Blanche in A Streetcar Named Desire.
Actress or Activist?
But what would Leigh have made of #MeToo? After all, she was no stranger to a protest. She led a rally through London in July 1957 campaigning against theatre closures while sporting a distinctive eye-patch (the result of domestic violence in her own marriage). That same year she loudly protested in the House of Lords against the demolition of the St James's Theatre.
Yet her public causes were focused more on the arts and on patriotism than inequality and gender. It's also important to remember that she essentially stood on the sidelines when others around her stepped forward to address intersectional inequality, where people encountered discrimination because of gender and race, for instance, in the industry within which she prospered.
When African-American actress Hattie McDaniel was barred from the 1940 Academy Awards ceremony, it was co-star Clark Gable, not Leigh, who threatened to boycott unless she was allowed to attend. https://www.youtube.com/embed/TaPMpD4oxDA?wmode=transparent&start=0 Vivien Leigh accepts her Oscar in 1940.
Age and (in)visibility
Leigh rarely commented on the gendered nature of her experiences despite her high profile status in Hollywood. The restrictions she experienced as a female star became more pronounced as she aged, however.
Though she died in 1967, aged just 53, she had been struggling to gain any significant roles for more than a decade. Like many other actresses of her era, she was a victim of the extreme fetishisation of youthfulness and sex appeal that has only recently begun to shift in Hollywood.
Leigh made 19 films in total, but only three after she turned 40. Her struggle to find meaningful roles as she aged now seems a stark contrast with the thriving careers of other A-List female Oscar winners post-#MeToo. Stars such as Kate Winslet, as my recent research has shown, are enjoying access to a wide range of roles as they enter middle age.
Reframing the careers of classical stars like Leigh through the lens of #MeToo reminds us that the movement isn't just about Harvey Weinstein, but about a system of gendered power that has run through the industry from its classical period to the present day.
Were Leigh working today, perhaps she would have reaped some of the benefits of the movement. And what an intriguing body of work she may have produced into her later years.
Lisa Smithstead, Senior Lecturer in Film Studies, Swansea University
This article is republished from The Conversation under a Creative Commons license. Read the original article.