Welcome / Croeso ! Here we hope to give you an insight into what we do here at in the Media Department at Swansea University. To begin with, Dr Richard Thomas describes what you'll find on the page. It's an evolving story explaining why we were rated 3rd out of 97 media departments in the UK in the NSS survey in 2021 and how we follow the mantra of "Research led: Practice driven: Teaching focused" to ensure that our department retains a clear operational focus that enables all our students and colleagues to thrive. Our thanks to colleagues Nadia and Georgios and their team of student filmmakers for shooting and editing these videos….
In the short videos that follow, we explain how we conceptualize media into specific subject pathways that students can follow if they are particularly keen on one subject route. Alternatively, they can chose to travel within and across pathways, to develop a broader sense of media and all its facets. To begin, Dr Leighton Evans explains how Media Theory underpins everything that we do….
One of the key strengths of all our programmes at both undergraduate and postgraduate levels is that we successfully blend an understanding of theory with the practical approaches and skills required for many media-based careers. Representing colleagues Mostyn Jones, Georgios Dimitropoulos and Nadia Cook-Evans, here Non Vaughan Williams explains our Creative Practice pathway…
Our Journalism pathway exemplifies our approach of teaching both theory and practice alongside each other. Dr Allaina Kilby explains that our interest in teaching and researching journalism embraces not only its value to democracy but also its function of providing information and entertainment…
Public Relations is another core strength within the department. Assignments within this particular pathway are typical of how we continually develop "authentic assessments" where students are asked to analyse and create campaigns and strategies much in the same way they would be asked to do by a professional client. Pathways lead Iwan Williams explains how PR is evolving…
Another important specialism – and in contrast to the production of film and video – is the analysis of cinema and television within our Film pathway. We are interested in what films say, what they mean, how they are received by audiences and the part they play in our lives. Dr Joanna Rydzewska explains…
Finally, while media involves so many ways of delivering messages to audiences, our Digital Media pathway covers the motivations for, and practicalities of the migration towards the digital platforms that play such a huge part in our daily lives. Dr Yan Wu outlines the breadth of "digital" and what it means to us…
Rydym yn adran ddwyieithog lle mae cyfleon i ddilyn rhywfaint o'ch astudiaethau trwy gyfrwng y Gymraeg. Gallwch astudio modiwlau cyfrwng Cymraeg sy'n trin a thrafod cysylltiadau cyhoeddus, ffilm neu sy'n datblygu eich sgiliau ymarferol ym maes y cyfryngau. Mae'r modiwlau hyn yn gyfuniad o fodiwlau sy'n fersiynau Cymraeg o fodiwlau sy'n bodoli yn y Saesneg a modiwlau gwreiddiol Cymraeg nad ydynt ar gael mewn unrhyw iaith arall. Mae'r ddarpariaeth Gymraeg yma yn ffordd wych o barhau gyda a datblygu eich sgiliau Cymraeg, sgiliau hynod werthfawr i gyflogwyr ym maes y cyfryngau yng Nghymru.
Mae dwy ffordd o astudio gyda ni yn y Gymraeg, trwy ddewis modiwlau cyfrwng Cymraeg fel rhan o'ch gradd Media and Communications, Public Relations and Media neu Journalism, Media and Communication. Neu fe allwch ddilyn gradd 100% cyfrwng Cymraeg, sef BA Cymraeg, Cyfryngau a Chysylltiadau Cyhoeddus sy'n radd gyfun gyda'r Adran Gymraeg. Mae'r ddau lwybr hwn yn gymwys ar gyfer ysgoloriaethau Coleg Cymraeg Cenedlaethol – sef yr ysgoloriaethau cymhelliant os fyddwch yn astudio o leiaf 2 fodiwl cyfrwng Cymraeg ym mhob blwyddyn, neu'r Brif Ysgoloriaeth os byddwch yn dilyn y radd gyfun.
We are a bilingual department where there are opportunities to complete some of your studies through the medium of Welsh. You can study Welsh medium modules which discuss public relations, film or modules which develop your practical media skills. These modules are a mix of modules which are Welsh versions of English medium modules and original modules which aren't available in any other language. This Welsh medium provision is a fantastic way of continuing with and developing your Welsh skills, skills which are highly coveted by employers in the media industry in Wales.
There are two ways of studying with us in Welsh, by selecting Welsh medium modules as part of your Media and Communications, Public Relations and Media or Journalism, Media and Communication degrees. Or you can follow a 100% Welsh medium degree, which is BA Cymraeg, Cyfryngau a Chysylltiadau Cyhoeddus which is a joint honours scheme run with the Welsh department. Both of these pathways are eligible for the Coleg Cymraeg Cenedlaethol scholarships – the incentive scholarship if you study at least 2 modules through the medium of Welsh each year, or the Main Scholarship if you join the joint honours degree. Dr Elain Price explains…
Of course, we are also a busy department in terms of our RESEARCH…
Dr Joe Cable is interested in the world of sport and its relationship with wider society. His work includes looking at how media use of football related clickbait on social media, and the part that race plays in the reporting of various sports, particularly football. He has contributed to media outlets such as The Athletic, BBC Radio Gloucestershire, and the French football website SoFoot.
Dr Leighton Evans is interested in the Philosophy of Technology and new media, social media, location-based social networking, phenomenology, webnography, management systems, smart logistics and smart cities. Leighton's primary research interests lie in the transformation of natural phenomena into data through digital technologies, and how this transformation leads to a normalisation of the digital in everyday life.  Currently, Leighton is working with researchers from Adam Mickiewicz University, Poznan, Poland on the 'Augmented City' project with £120,000 funding from the National Science Institute, Poland. 
Dr Richard Fern looks at the role of public relations in policing and activism, addressing issues of climate change and sustainability, as well as the role of campaigning and the reporting of protest.
Dr Rhys Jones researches technologies at an early stage of their acceptance (or not) into society. He has published on the history and current status of the Welsh language online, and the way the internet was imagined in newspapers in the early 1990.
Dr Allaina Kilby began with a focus on political journalism, and how political comedy programmes like TV satire present an alternative perspective to conventional news reporting. More recently, Allaina has been examining lifestyle journalism, specifically sex and relationship advice offered in newspapers, and the rise of these topics on social media platforms like Instagram.
Dr Yan Wu researches in two main areas – Chinese media and communication and digital inclusivity in Wales. She is currently collaborating with Chinese researchers on a National Social Science Fund of China funded project researching the use of social media by elderly Chinese. Over the past several years, she has also developed a series of research projects concerning digital media and inclusivity in Wales, raising public awareness of communicative rights for people with sensory impairments in the digital age, supporting the on-going campaign for communication equality, and has produced strong evidence for the direct impact on policy. You can find out more about that project here…
Dr William Merrin has written a number of important books over the last few years. His Media 2.0 (2014) redefined the field of study, and more recently this has been followed by the very successful Digital War (2018) and Pandemocracy (2022). His lasts book Troll Warfare will be published shortly. He is also a founding editor of the important new journal Digital War.
Dr Ana-Maria Herman looks at 'digital sociology'. She has examined the making and use of novel digital media (e.g., augmented reality (AR) apps) to exhibit museum archives and explored their implications on exhibition design, user interaction, urban space, and management practices. Her research draws on and contributes to the areas of exhibitionary design studies, human-computer interaction (HCI), media theory, museum studies, and science and technology studies (STS).
Dr Ceri Hughes focuses on political communication, with specific emphasis on minor party politics, religion and politics, contentious politics and misinformation. His research has featured in the Washington Post, The Conversation, Salon, The New Yorker, Vox and the Washington Post and he has featured on various television and radio stations
Dr Chris Pak is the author of Terraforming: Ecopolitical Transformations and Environmentalism in Science Fiction (2016) – this a contribution to the Environmental Humanities, Utopian Studies and Postcolonialism that analyses how transformations to environments in science fiction interrogate the global politics of climate change and the Anthropocene.
Dr Elain Price is specifically interested in broadcasting in Wales – in particular the progress and history of S4C and the independent television sector, the development of Welsh-language children's television programmes and animation in Wales.
Dr Joanna Rydzewska focuses on European, Eastern European and British cinema with particular emphasis on exile, migration and transnational film studies. All Joanna's research is implicitly or explicitly informed by gender studies and feminist film theory, and employs robust contextual analysis that informs aesthetic and thematic analyses of film and television texts.
Dr Sian Rees focuses on public relations and brand authenticity, sports public relations and employability in higher education.  Her work on branding explores the challenge of developing "authentic" brand narratives in the digital age, whilst questioning the problematic nature of brand "authenticity" itself.  This has resulted in the conceptualisation of an authentic brand wheel which maps out authentic brand characteristics.
Dr Lisa Smithstead is interested in film, but more specifically, archives, women's creative labour and feminist film historiography. Her work has explored the relationships between women writers, filmmakers and audiences in interwar and contemporary Britain and America, looking at intermedial exchanges between women's film and print culture, cultures of female film stardom and discourses on women's film authorship. Her first book Off to the Pictures: Cinemagoing, Women's Writing and Movie Culture in Interwar Britain was in 2016 and her second, Reframing Vivien Leigh, was published in 2021.
Dr Richard Thomas is interested in the quantifying and qualifying of the trends and patterns in the coverage of economics, business, finance, politics and conflict by a range of news outlets ranging from TV and radio to online blogging and social media. One of his central areas of interest is political communication, alt-media and the coverage of elections. He is the co-author of "Reporting Elections: Rethinking the Logic of Campaign Coverage" and has published many other journal articles and book chapters. He has been commissioned to carry out research by the BBC and Ofcom, and is a co-investigator in the ESRC funded research project "Beyond the MSM" available here . He is also the author of Cricketing Lives: A Characterful History from Pitch to Page, a former Amazon Best seller within the History of Sport category.
Colleagues have produced a number of important books in their respective fields…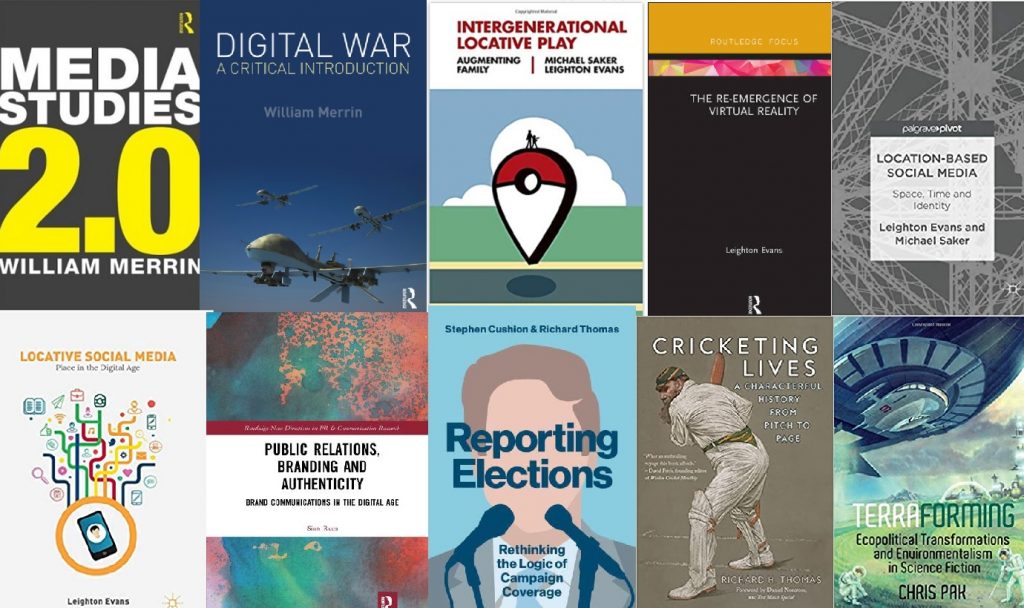 So much for our creative, interesting and effective teaching and our ground breaking and contemporary research, but what do our students say ? First up is Sarah Williams who was attracted back to Swansea for further study – at doctorate level – because of the welcome that was waiting and the expertise of those advising her…
Another of our PhD students – Chedza Simon – also returned to study with us at Swansea, moving all the way from his home in Botswana. Here he talks about studying in the middle of a pandemic and the support he received from the department…
Here MA student Nathan Coogan talks about the unique interaction between staff and students and how we've built a great working environment that everyone can enjoy and participate in…
And finally another MA student Saurabh Nagpal talks about the versatility and breadth of the programme, the collaborative opportunities within it and how he feels that Swansea has been a safe, welcoming place for him to study…
Finally, of course, a prime motivation among the students who come to study with us is to develop the skills, expertise and knowledge that employers need. Accordingly, developing EMPLOYABILITY – the elements seen as essential within the creative industries job market – is a strong thread running through all that we do…
We approach the general principle of employability in a number of ways:
Within our curriculum: As you have heard, a number of modules are wholly practical in nature. They teach the skills and operational approaches required in the workplace. Furthermore, we have modules that prepare students for the world of work and how to become a successful employee and media operative. We even run an internship module for students to learn "on the job" where they are assessed according to their performance and own reflection of that workplace experience. Students also have the option to spend a year in industry as part of their degree programme. They can also follow optional Career Development Courses – these help to develop the "soft skills", decision making processes and resilience strategies that will really impress potential employers.
Within our assessments: Of course, students are assessed via more traditional coursework formats such as essays, but we also design assignments to replicate the sorts of tasks and outputs that one might find in a work setting. This might be finding, researching and writing a news story, making a promotional video, designing a web page, creating a PR campaign, or even developing a strategy in real time to deal with a commercial crisis.
The validation of our programmes: Twice a year we meet up with our Industry panel. This is a group of media professionals drawn from all parts of the sector including newspapers, broadcasters and other news organizations, and those who make documentaries, run PR agencies and so on. They examine our modules and programmes, and advise us about their suitability for employers, and tell us about upcoming trends. Accordingly we can ensure that what we teach media students is current, relevant and of importance to potential employers.
Our industry contacts: We are in touch with many local employers in a wide range of industry sectors. They regularly tell us about work experience openings, internships, projects and other opportunities where students can apply the skills and knowledge learned in class. We also have a virtual jobs noticeboard that is updated weekly and a monthly student newsletter. Both feature such job opportunities…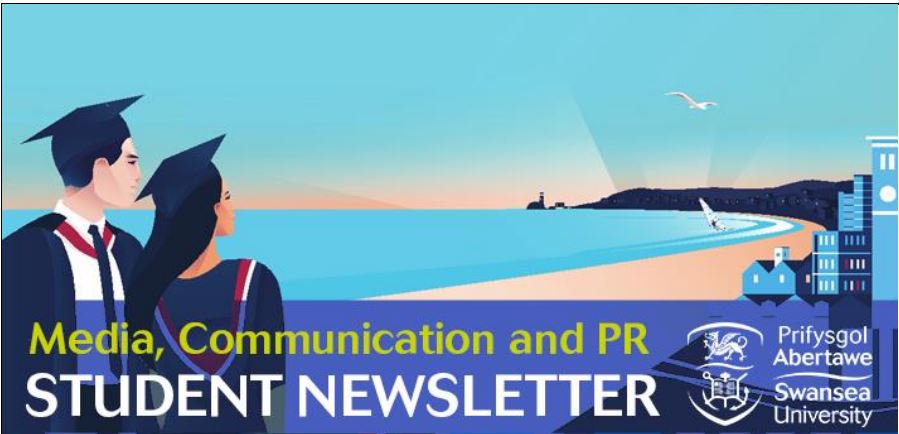 Our showcasing of student work: The Mumbler is the home of everything that is good about our department. It mainly features student work, and provides real evidence for employers that demonstrates the skills and creativity of our students.
Special Projects: We create various incidental projects throughout the year. In fact, the creation of this webpage is one such example as students filmed staff and other students for this "About us" section. If you watched the vides featuring Nathan and Saurabh, you will notice that they both refer to their work on the "summit". This was the Global Challenges Summit hosted by Hillary Rodham Clinton in November, 2021. We established a "Live Media Hub" which produced live reporting, features, videos, vox pops and social media content covering all elements of the summit and key global issues that the participants considered and discussed. You can watch and read the content here.
Thank you for visiting the Mumbler and this "About us" page. We hope that it is clear that we have a department we are proud of and one that provides inspiration, knowledge, opportunities and enjoyment. We hope that you might become involved with our department some time in the future, but for now, the last word goes to our highest profile supporter….