My name is Emily Way. I am a Media and Communications student at Swansea University which offers the opportunity to take part in a yearlong work placement during year three of a four year course. Following the recruitment process of searching and applying for suitable opportunities I was excited to have been offered the position of a Marketing and Communications Analyst with Allstate Northern Ireland based in Belfast. Allstate Northern Ireland is a subsidiary of the Allstate Corporation in the United States. We are Northern Ireland's largest IT company that provides a range critical business support services to its parent company including technology, data, cybersecurity and finance.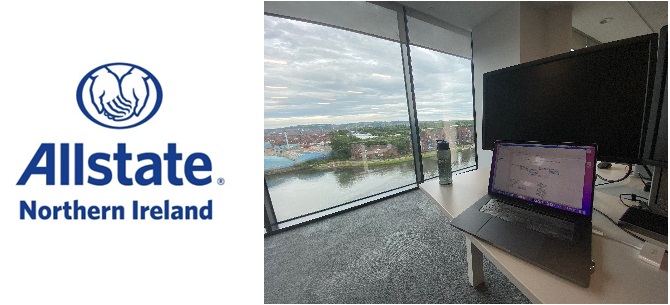 I started my placement with Allstate Northern Ireland at the beginning of June and so far, I have really enjoyed being here. Having moved around internationally for most of my life moving to a new city felt more of an opportunity than a daunting task so I was more than happy to accept the position. There is so much to do here, from visiting the iconic Titanic Museum to taking a stroll on Holywood's sea front. I have really enjoyed getting to know the city. Ireland is a beautiful place and I have already started to venture further afield, visiting Dublin to enjoy the Guinness Stonehouse factory, the famous Temple Bar and Dublin Castle, but there is still so much more to explore.
Working at Allstate Northern Ireland has already been very rewarding. Each day is different, offering new challenges in a fast-paced environment while my colleagues and managers have been incredibly encouraging and supportive. My colleagues truly created such a welcoming onboarding experience that has made my move to Belfast that much smoother. Allstate NI encourages "a better work life balance", offering flexible working arrangements. The hybrid work from home or office scheme allows employees freedom to productively meet work requirements in a dynamic environment. The modern office workspace is situated on the waterfront and has provided the opportunity for me to meet fellow placement students and graduates. The numerous clubs and societies on offer make it easy to meet new people and as my role requires me to communicate events, I am always busy. A firm favourite so far is the Therapy Dog from Assistance Dogs NI. For a visual of work life at Allstate Northern Ireland check out our TikTok account @AllstateNI.