Every day, we are reminded that the wider Media and Communications community of students and scholars is full of talented people with interesting stories to tell. For the teaching staff, one of the most enjoyable elements of Induction week is meeting new students, and hearing about their interests, plans and ambitions.
Swansea University of course, has a strong sporting tradition, and indeed, this year, under the tutelage of Iwan Williams, some of incoming students will be studying on our freshy minted MA in Sports Communication and Journalism. We are pleased to report that among the various incoming cohorts, there are some elite athletes who will be managing their sporting careers alongside their academic studies.
One of these is Dan Huxtable, who has a Sports Scholarship from Sports Swansea and will be doing a MA in Communications, Media Practice and PR. But that's only one part of Dan's life. Besides running G&K Martial Arts Academy in Swansea and attending to the needs of its 450 members, Dan also owns his own Martial Arts brand called Fightwear Store UK. But there's even more to Dan than being a businessman, athlete, coach and student. He is a multiple world title kickboxing champion across three different weight classes. In 2020, he was selected to fight for Team GB at the WAKO World Championships in Turkey.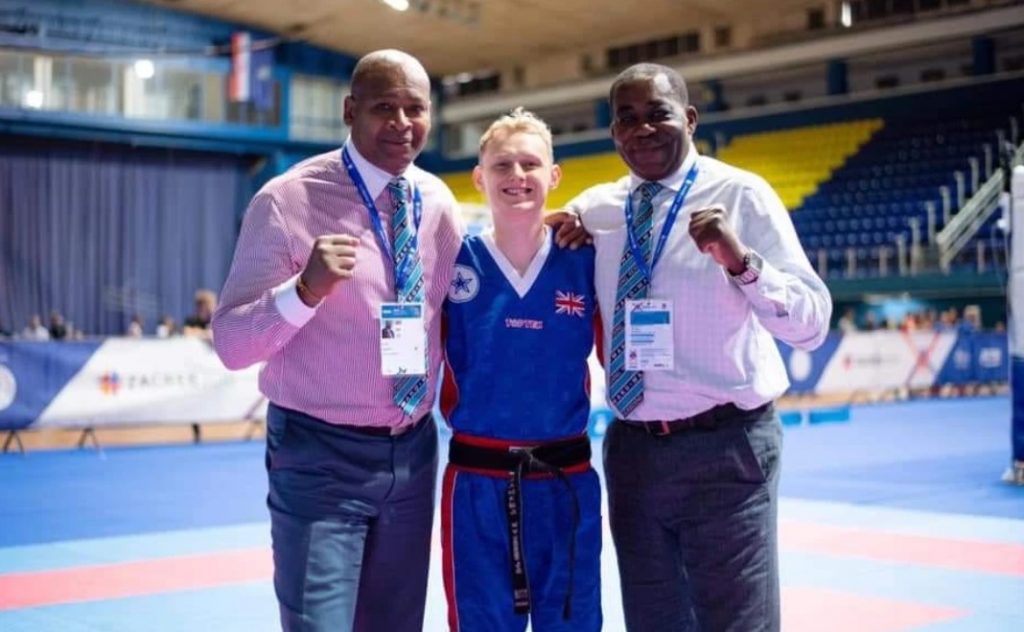 And it all started in such an unusual way. "Originally I started kickboxing because I was being bullied in primary school" he told us, and after his Dad introduced him to the local club, he "fell in love with the sport". Since then he says, "I've never looked back". This seems something of an understatement, and at Mumbler HQ we are exhausted just listening to what Dan has achieved, and the details of his daily routine embracing coaching, training and studying that sometimes doesn't end until 11pm.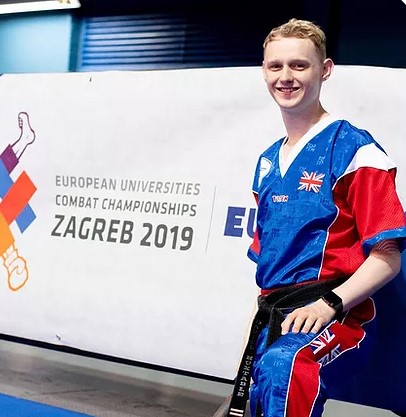 Joining Dan in our department is Morgan MacRae, who has a professional rugby contract with the Scarlets. Morgan will be studying for a BA in Media and Communications. At the end of his degree, he aspires to continue with his rugby career with the Scarlets and to become a first team regular. Hopefully, he says, "I'll progress into further national representation as I get older". Though he hails from Henley on Thames in Oxfordshire, Morgan tells us that his future will definitely be in the red shirt of Wales and not the white of England. Indeed, he has already been selected for Wales U19's squad for 2020.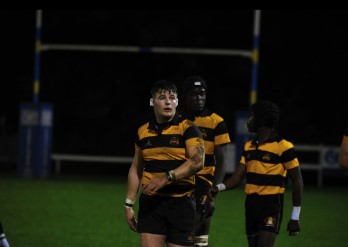 As athletes performing at a high level of course, both Dan and Morgan have been confronted with some particular challenges during the COVID pandemic. Morgan makes the point that "there is only so much you can do on your own in a team sport like rugby" and that for the first few weeks of lockdown, he had limited access to gym equipment and so had to make some adjustments to the way he trained.
Dan was able to train in his own gym of course, but the restrictions on different households mixing has had some impact as it limits the number of people he can train and spar with. In addition, whereas he usually competes in around ten competitions per year, so far this year he has only been to three.
Both Morgan and Dan study with as part of TASS (Talented Athlete Scholarship Scheme), which is a Sport England funded partnership between talented athletes, education institutions and national governing bodies of sport. The scheme helps athletes to get the very best from their sporting and academic careers without having to choose between the two. Swansea University has recently gained status as the first institution outside of England to be awarded the Talented Athlete Scholarship Scheme (TASS) Dual Career Accreditation. Our involvement simply underlines the recognition within the University that sport plays a key element in the lives of many students, and that elite careers do not need to be interrupted in order to gain academic experience and qualifications.

But both Morgan and Dan are optimistic about the future and both are confident that they can manage their studies alongside their training, competing and playing. They both have words of advice that transcend sport and might equally apply to academic life. Morgan urges us to take "take every opportunity" and to "work hard", while Dan assigns huge importance to practice and confirms that the more you do something, the better you get at it.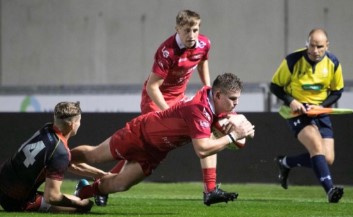 We'll check in with Morgan and Dan a bit later in the year to see how things are going on and off the field and inside and outside of the ring, but in the meantime, good luck lads – play hard, work hard and keep us posted about your ongoing activities and achievements.