In June 2019, 11 students from the Swansea University's College of Arts and Humanities (COAH) arrived in China to begin a two-week summer school at Beijing Union University (BUU).
The summer school, generously funded by the Office of Chinese language Council International (China) and Swansea University's Go Global Bursary Scheme offered free language and culture training courses.
Students visited the cutting-edge digital media labs based on the university campus, the national newspaper Chinese Youth Daily, and various renowned heritage sites in Beijing.
The visit to the Digital Media Labs offered students first-hand experience of learning in a blended media environment. Established in 2011, the Labs incorporate cutting-edge locative media and augmented reality technologies in delivering learning and teaching activities, representing the highest standards of communication technology in Chinese higher education.
The visit to the Chinese Youth Daily offered students a unique experience in understanding the status of convergence media. Founded in 1951 as a newspaper for young people, the Chinese Youth Daily is now a fully-fledged multimedia output featuring a successful digital presence Chinese Youth Online (CYOL).
Prior to the visit, students prepared various questions about the digital media strategies adopted by CYOL. Questions were answered by staff members who demonstrated the most recent digital news products and informal conversations between students and CYOL staff members covered issues such as whether the digital delivery has an impact on journalism and how more traditional media engages young readers in the digital age.
Media and Communications student Ben Williams said that the experience 'provided an eye-opening experience as to the purpose, creation and distribution of media in other parts of the world' and helped him gain a deeper understanding of 'what it takes to be an individual working in the media both nationally and internationally'.
Students also visited heritage sites including the Great Wall of China, the Forbidden City, and the Temple of Heaven. Exploring Beijing on foot, by bus, and by metro was said Ben 'like nothing I had experienced before'.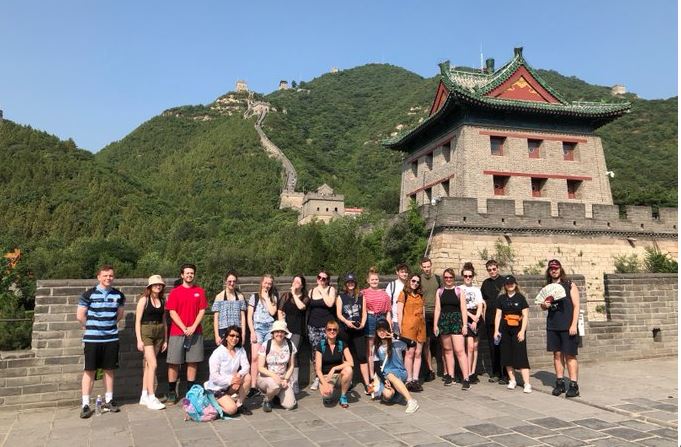 For some students, it was a first trip outside of Europe. Keara Clifford from Politics commented that while she was used to a Western way of life, the experience made her realise 'how this isn't the only way of thinking' and how refreshing it was 'to see different ways of living'. Other students commented on how the summer school experience enhanced their confidence. Rebecca Turner from History for example, confirmed that in future she will be more comfortable travelling to 'other places in the world that are culturally different'.
Dr Yan Wu and Dr Joanna Rydzewska, who organised the summer school, concluded that the whole experience would equip COAH students with the knowledge and skills needed for working in an increasingly globalised 21st Century.