Our Media and Communication PhD Student Chedza Simon attended a three day Commonwealth Futures: Youth Perspectives symposium, which was held at the Cumberland Lodge in Windsor.
He was among a diverse group of young people from 25 Commonwealth countries who participated at the symposium that was organised by the Commonwealth Secretariat, the Association of Commonwealth (ACU), the British Council and Cumberland Lodge. The participants were commonwealth scholars and young people from different sectors in Africa and the United Kingdom.
The symposium was held to discuss youth priorities for the future of the Commonwealth, and to make a contribution to the policy document to be presented at the 2020 Commonwealth Youth Forum, which is part of the 2020 Commonwealth Heads of Government Meeting (CHOGM) scheduled for Rwanda. The outcomes of the conference will also be fed into policy documents to be presented to the British Council's London Going Global 2020 Conference.
Welcoming the participants at the symposium, the Chief Executive Officer of Cumberland Lodge Dr Edmund Newell expressed his gratitude to the guest speakers who were going to help guide and inform the discussions. "The outcomes of this conference will influence policy around ICT innovation and the rule of law in the Commonwealth and help promote progress towards more peaceful, open and inclusive societies," he said and added, "We are extremely grateful to our guest speakers."
Among the speakers who addressed the participants ahead of the conference were Dr Arjoon Suddhoo, the Commonwealth Deputy Secretary General; Yasmin Batliwala, the Chief Executive Officer of Advocates for International Development (A4ID) and Maddalaine Ansell, the Senior Higher Education Advisor at the British Council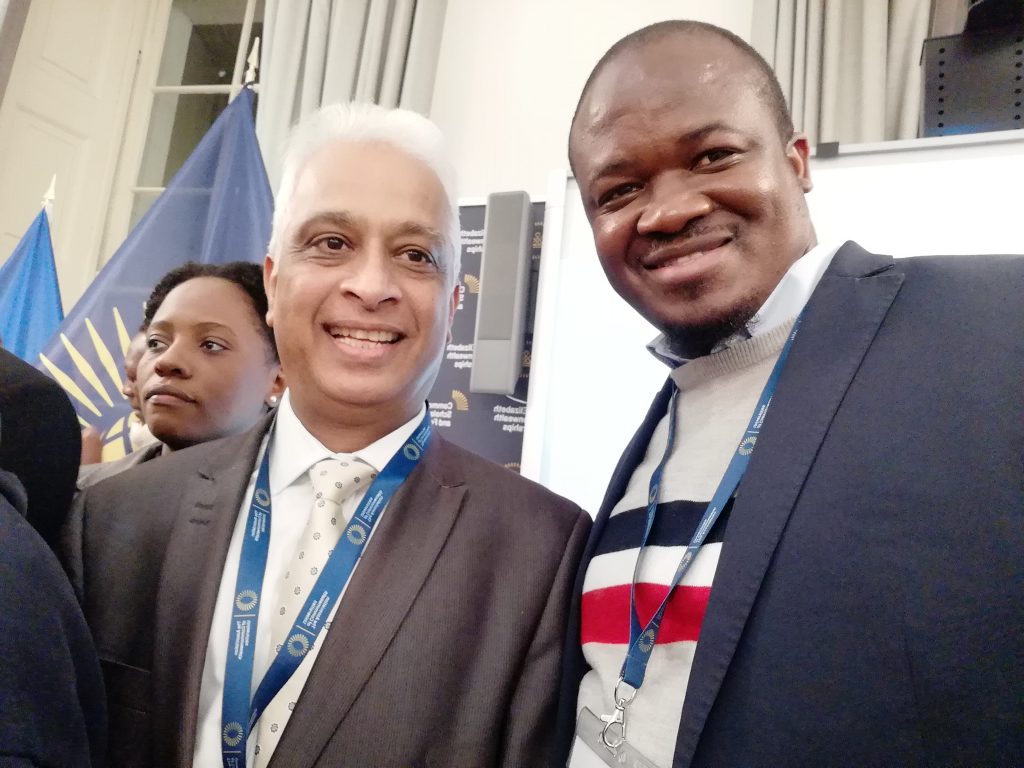 Speaking to The Swansea Mumbler, Simon said, "It was an honour to attend the conference. We discussed challenges of youth around ICT and the rule of law and came up with ideas that will feed into a policy document to be presented at the 2020 CHOGM Conference in Rwanda. It was a pleasure working with brilliant colleagues from other Commonwealth countries. My group suggested a Youth Innovation Fund to finance creative ideas by young people around the Commonwealth because they lack funding to develop their ideas into solutions that can change the world. It will be exciting to see this idea presented at the CHOGM and adopted by all the Commonwealth countries."
Meanwhile, the conference ended with all the participants presenting their ideas to a panel of experts from renowned organisations among them Her Excellency Yamina Karitanyi, the High Commissioner for the Republic of Rwanda to the United Kingdom; Nicola Brentnall, the Chief Executive of the Queen's Commonwealth Trust; Louise Ellis, the Acting UK Commonwealth Envoy (Foreign and Commonwealth Office) and Alan Gemmell, the Chief Executive Officer of the Commonwealth Enterprise Investment Council.
The participants had an opportunity to attend the 60th Anniversary Celebrations of the Commonwealth Scholarship and Fellowship Plan which was held at the Cyprus High Commission in London.