Media students Morgan, Winner and Patrick provide live coverage of the event in the Great Hall….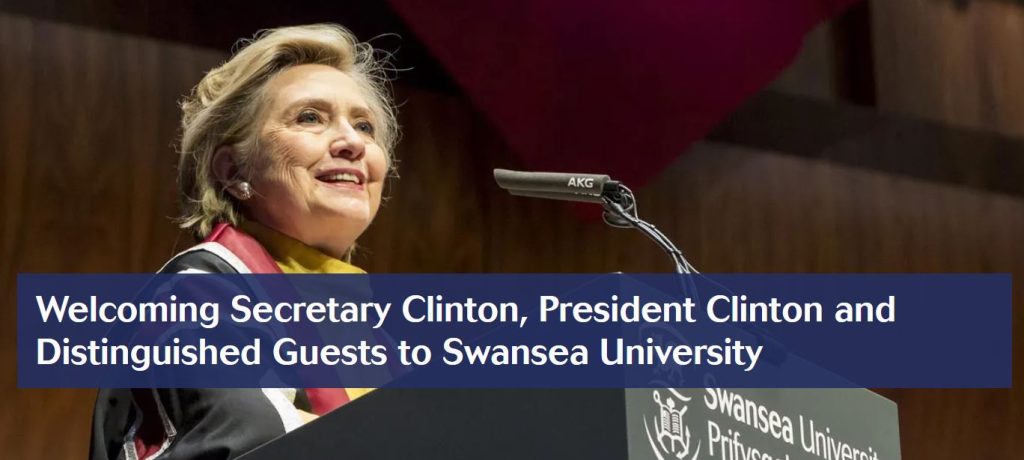 Good afternoon everyone ! Welcome to our live coverage of today's 'Leadership for Future Generations' summit in Swansea University.
Here's what's happening today:
Secretary Hilary Rodham Clinton accompanied by former US President Bill Clinton is visiting Swansea University Bay Campus today for a summit focusing on leadership for future generations.
The Clintons will also receive an honorary doctorate at the event as well.
The university's Vice Chancellor, Paul Boyle, and the Welsh First Minister, Mark Drakeford, are also taking part in the event.
Secretary Clinton has ancestral roots in Wales, her father being from a long line of coal miners, and her great grandparents being from Abergavenny and Powys.
The event is expected to 'build on Swansea's long-standing relationship with Secretary Clinton' and highlight 'several key initiatives' that the university is delivering in 'collaboration with our partners'.
The event is due to begin at 13:30.
Stick with us for all the latest.
12.53 – We are all gathered around the screen waiting for proceedings to start. It will start at about 1.15 with some University and Welsh Government videos), then there will be a short interview with our Ukranian student Anna Petrusenko at 1.30, with the main event beginning at 2pm.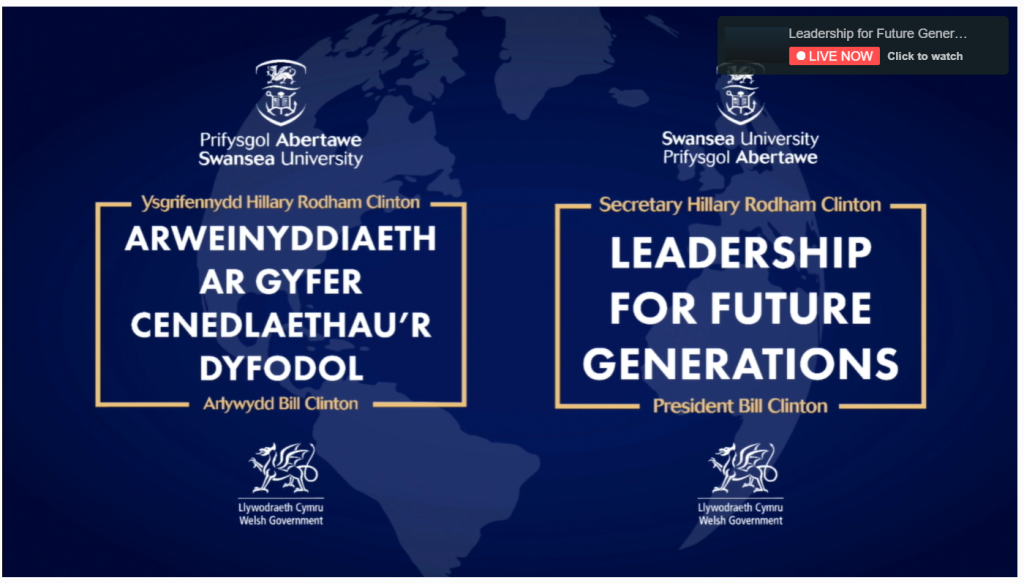 1.12 – Here we go – some videos about Wales and the University to start proceedings…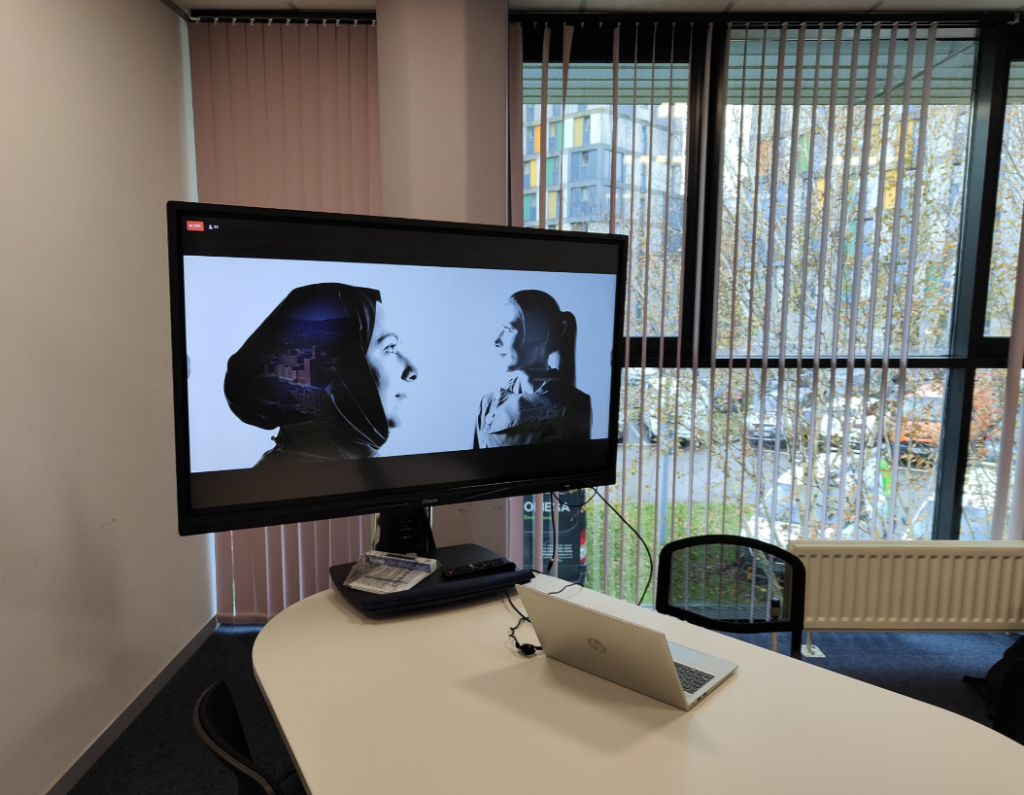 Morgan is running operations from his desk…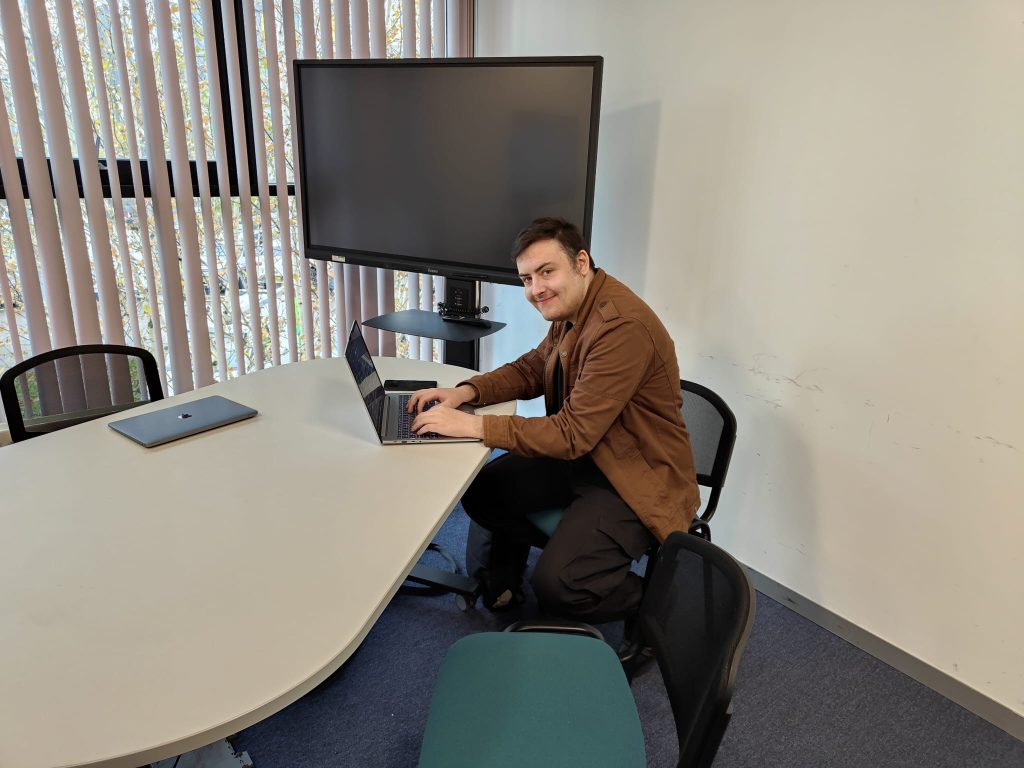 1.40 – It's started – Pablo Josiah – Student's Union President introduces the event….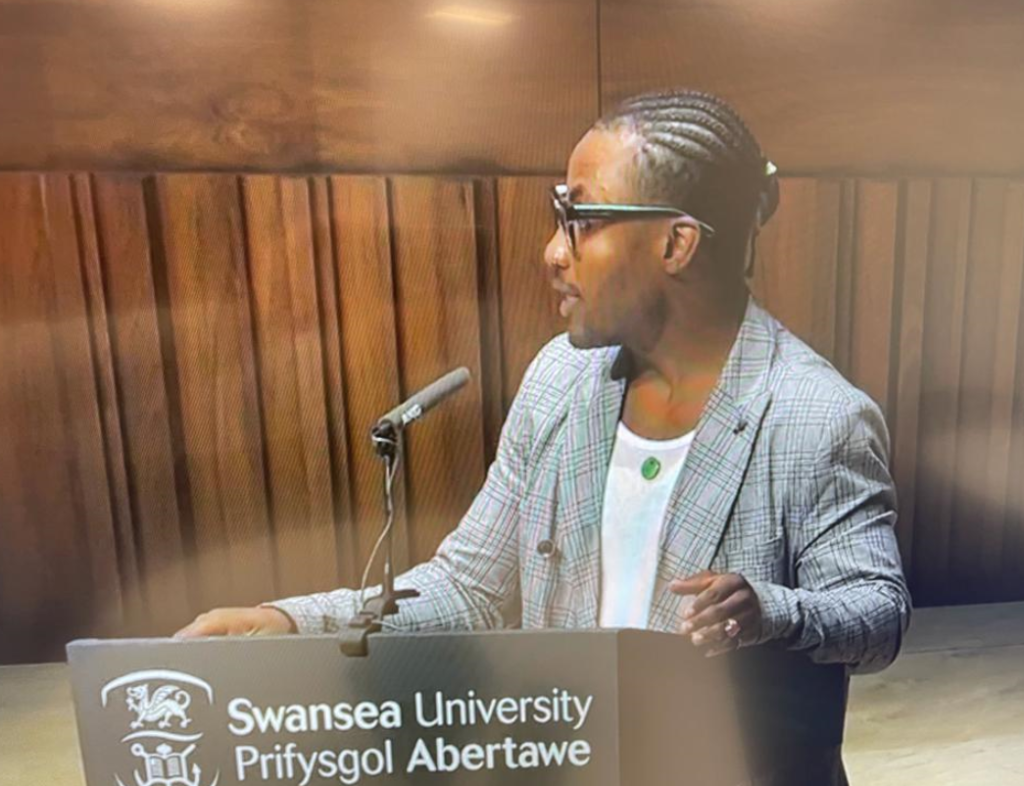 1.45 – Documentary maker and Swansea University Council member Elin Rhys interviews the amazing Anna to talk about how she has built something wonderful after leaving her home in Ukraine because of the war… Anna is describing her experience of fleeing Ukraine during the Russian invasion, and how this experience has led her to help her fellow Ukrainians.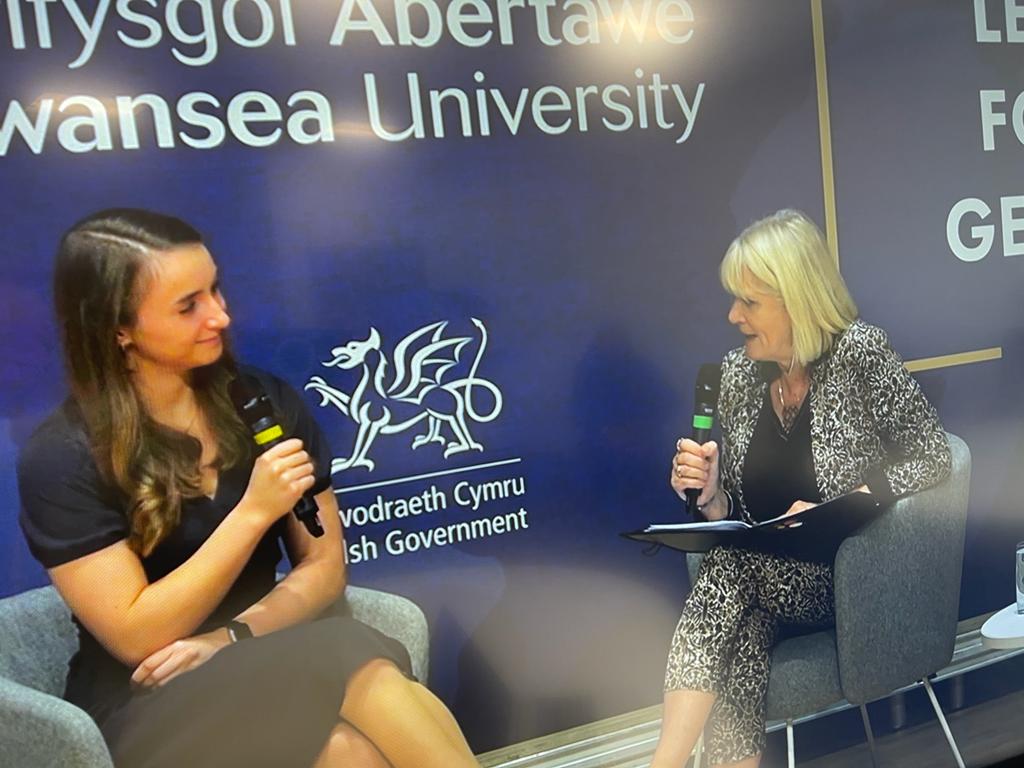 1.50 – 'I wasn't only angry at Russia, I felt angry at the whole world'–  Ukrainian student Anna Petrusenko describes her experience fleeing Ukraine during the Russian invasion .
1.53 – Anna on her work in Gower College: "I am so happy that I am starting in Gower College, teachers here are really helpful and inspiring and they've taught me a lot". Many great students move on from Gower College to come to the University – perhaps Anna will too…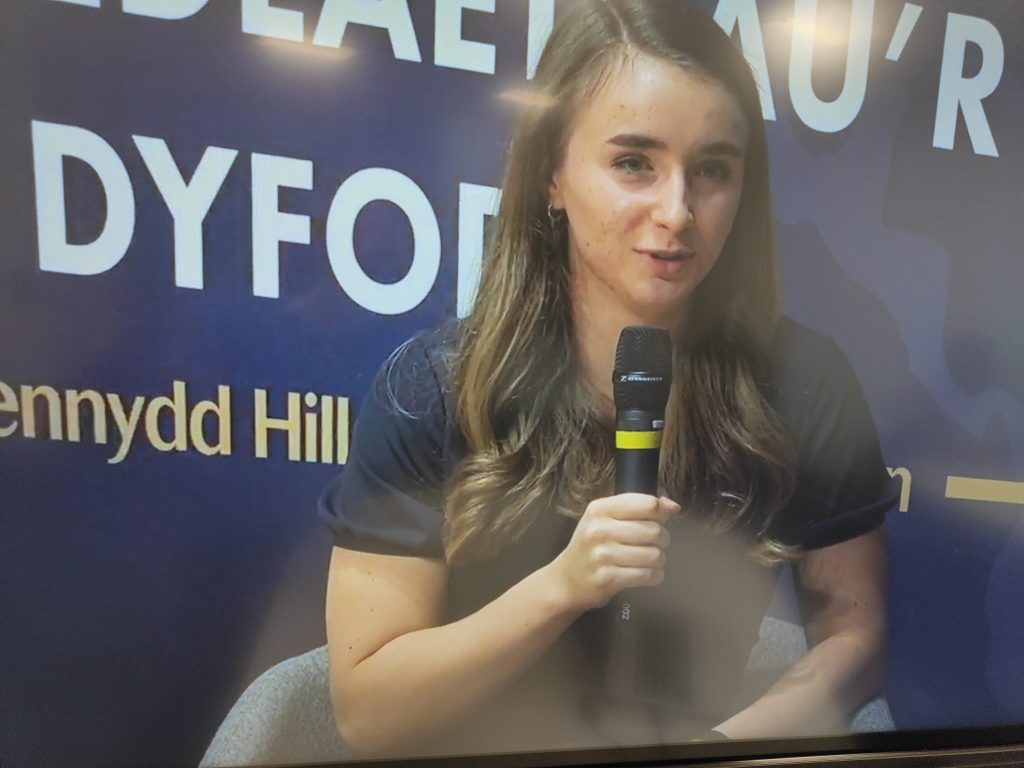 1:55 – "It's important to dream really big. Focusing on negativity is one of the worst habits that exists. People underestimate the power of their mindset. Leaving your comfort zone and becoming the best possible version of yourself is the best mindset." – Anna provides a helpful, motivational tip for life, and adds that we should all "Try to be 1% better every day".
1.56 – Anna shares high praise for Ukrainian President Zelensky – "He is very brave, courageous, and showed support to Ukrainians all over the world".  
13:57 – Won't be long now until the Secretary and President Clinton arrive on stage with Vice Chancellor Professor Paul Boyle and First Minister Mark Drakeford. But there's a ten minute break first… 
14:12 – "Connections and collaboration can deliver real change to the world" says Vice Chancellor Professor Paul Boyle as he introduces the event today – it is the 4th visit by Secretary Clinton to our university he says, but the first time she has been accompanied by the former President…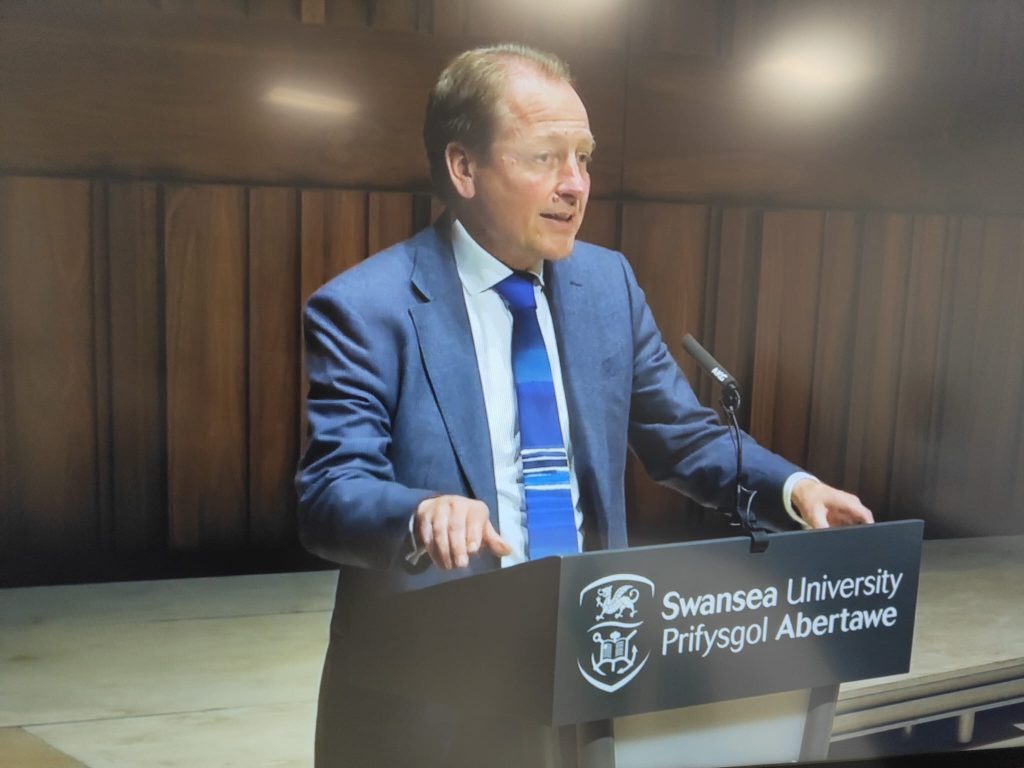 14:18 – First Minister Mark Drakeford has arrived on stage.  Secretary Clinton follows shortly afterwards. Big applause from the crowd.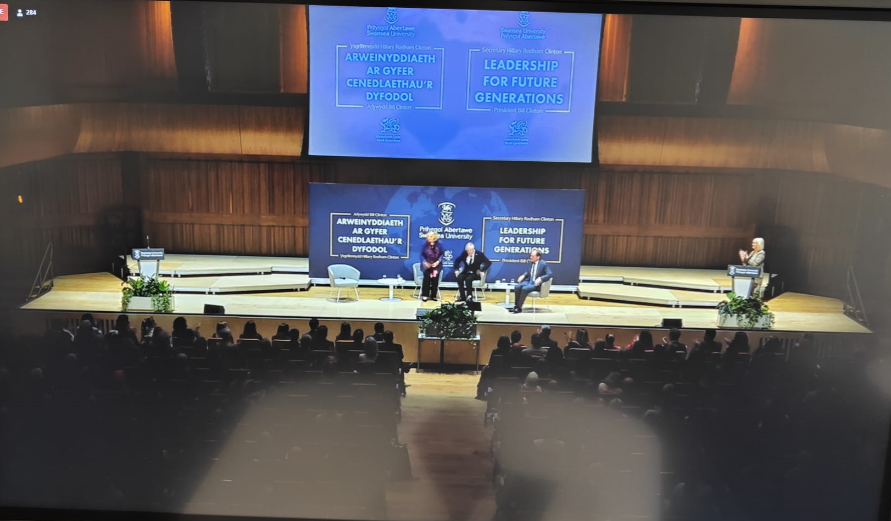 14:21 – 42nd President of the United States Bill Clinton now joins them on stage. It is a huge moment for the university.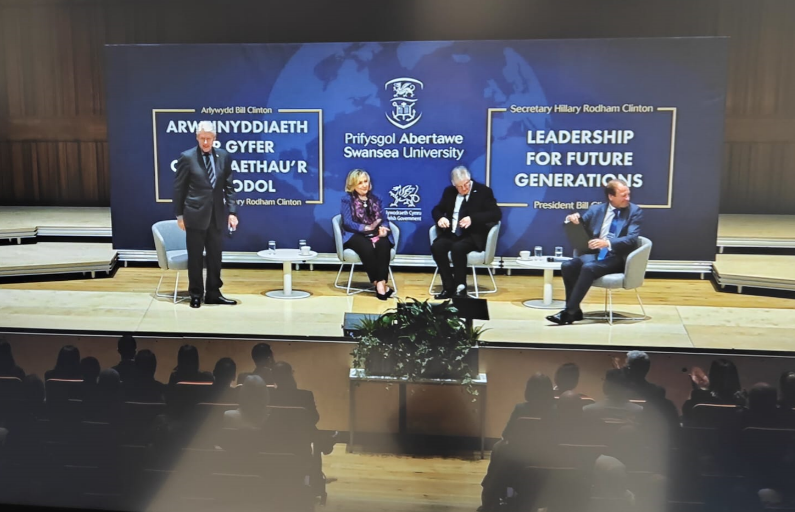 14:22 – Professor Boyle opens with a question for President Clinton. "The news isn't comfortable watching at the moment with the period of conflict and with climate change" he says. "It is a critical juncture in the history of humanity. How would you characterise this period of global unrest and uncertainty?"
14:24 – President Clinton: "It's heartbreaking for someone like me who has worked 8 years for peace in the Middle East to see the events in Gaza".
14:26: "Its so important that people develop the confidence, education and skills to be able to navigate the changes in the world. Particularly for young people, it means doing all you can to be willing to get out of your comfort zone and put yourself in the place of other people." – Secretary Clinton.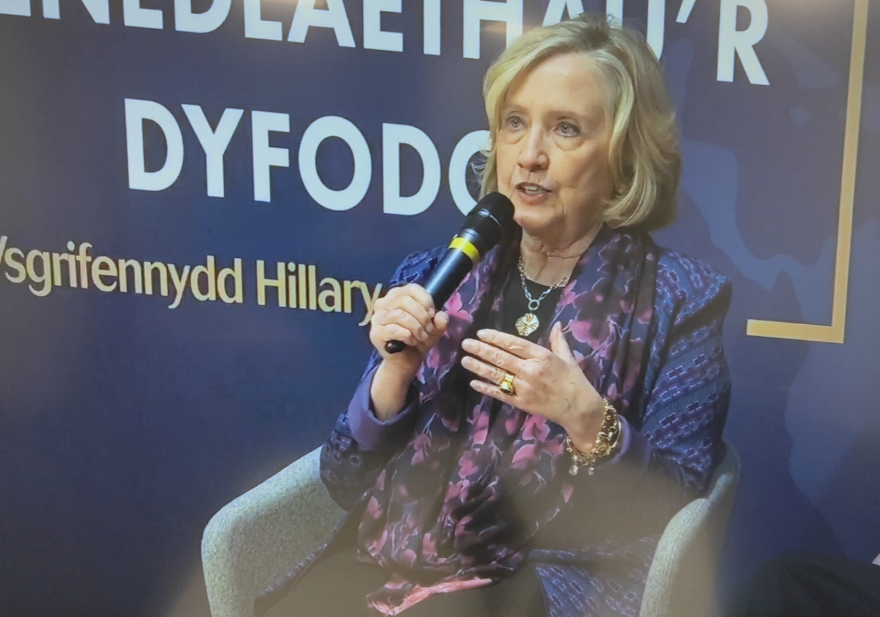 14:29 – "We have to make the effort to stay well informed about what's really happening, and help equip ourselves and others to withstand the forces of division." – Secretary Clinton.
14:30 – "What role can Wales play in peace and security?" – The VC's question to First Minster Drakeford.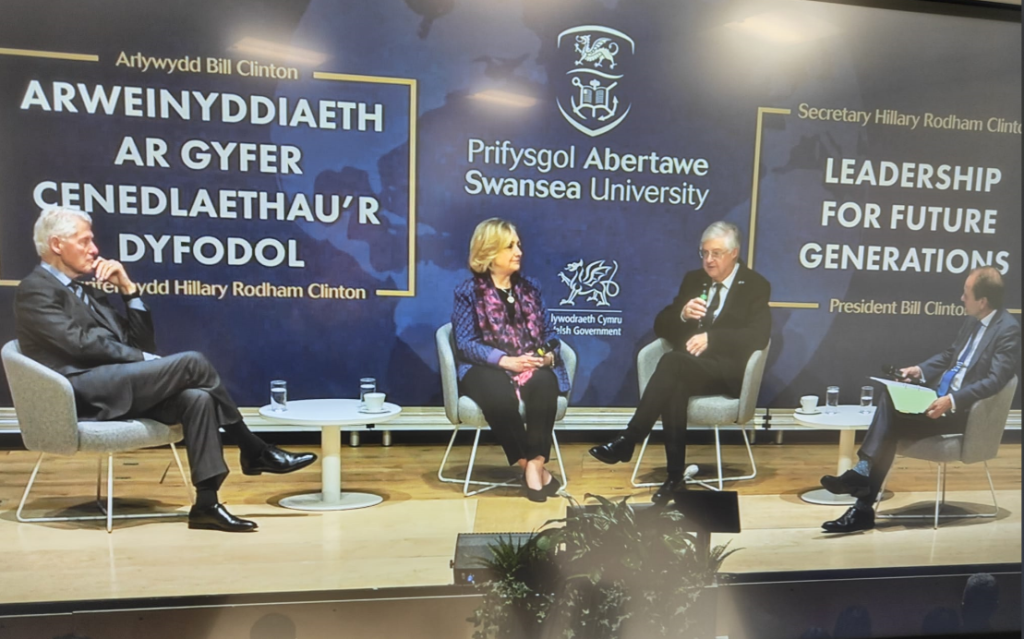 2:30 – "I never think of Wales as somewhere where we set out to teach to other people. What we offer is experience, and the need for peace in Ukraine and the Middle East is absolutely urgent. The pursuit for peace is something which requires patience." – Mark Drakeford.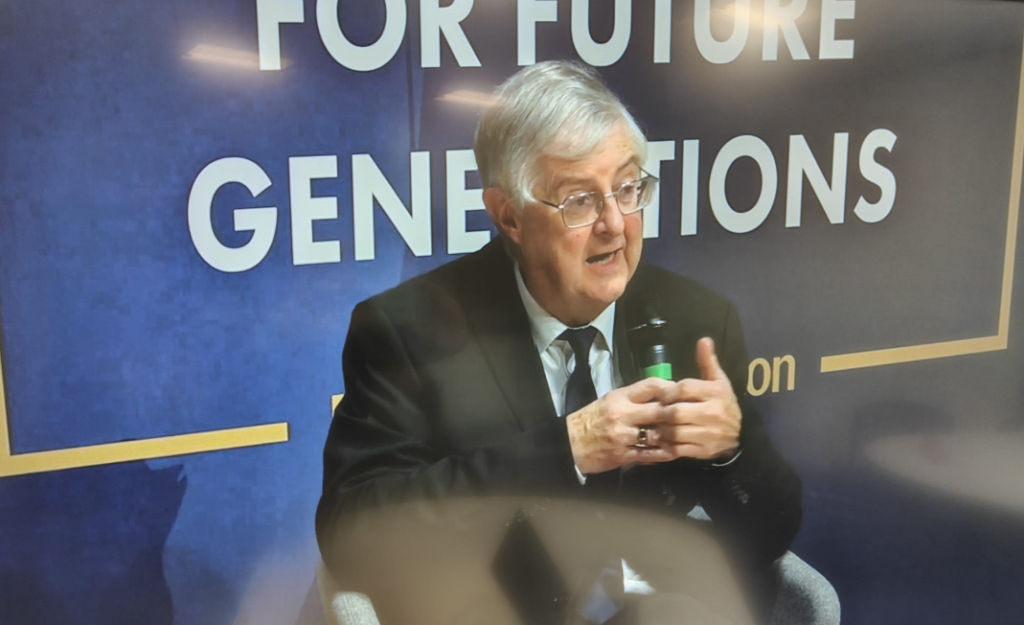 2:33 – "We have thousands of people living in Wales from Ukraine, Syria, Hong Kong and Afghanistan and we offer a rooted sense of being a nation where peace matters to us and the pursuit for peace is in our DNA." – Mark Drakeford.
2:34 – The First Minster recalls a story from the pandemic where he met a young mother from Syria who told him how welcoming Wales is.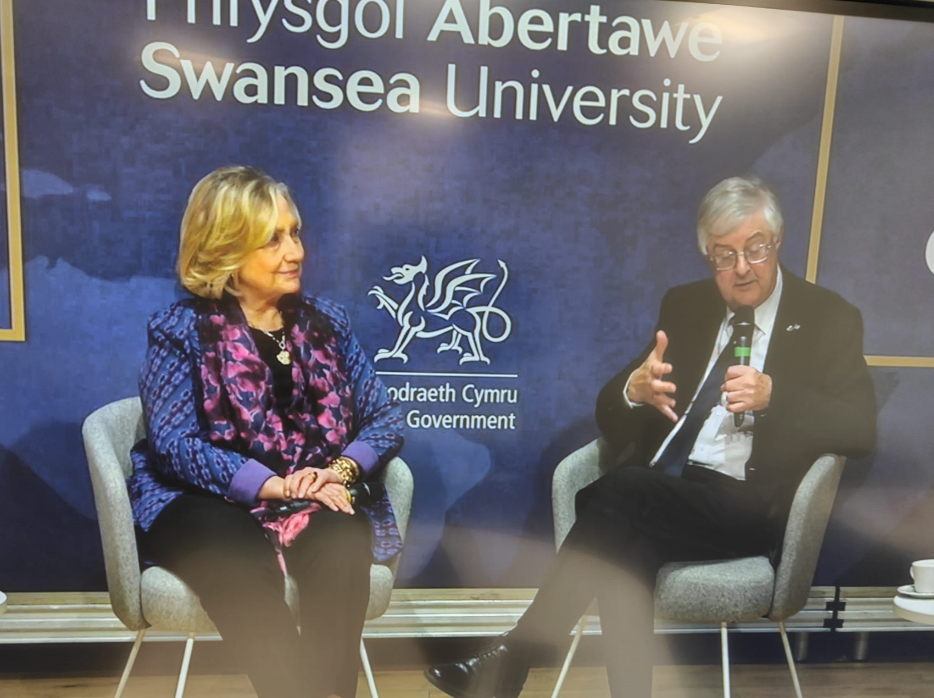 2:37: "How can countries preserve and celebrate their culture without engaging in extreme aspects of nationalism?" – asks Professor Boyle, directing this to President Clinton.
2:40 – "We have no idea what the European future will look like with Vladimir Putin." – President Clinton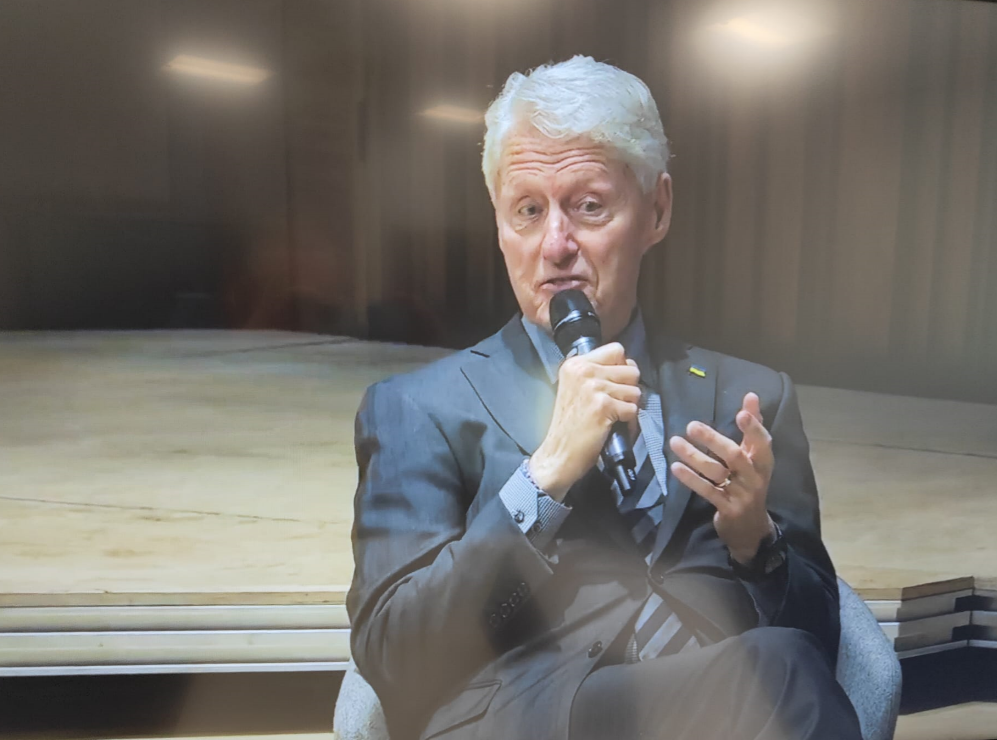 2:40 – "We have to be prepared to be disappointed sometimes in fighting peace. We have to carry on and keep supporting peace, and do it because you thing it's right." – Secretary Clinton.
2:41 – "What message do you have to those in power in terms of migration?" – Professor Boyle asks Secretary Clinton.
2:42 – "We have to work hard to get a system that everybody will believe is fair and which functions effectively." – Secretary Clinton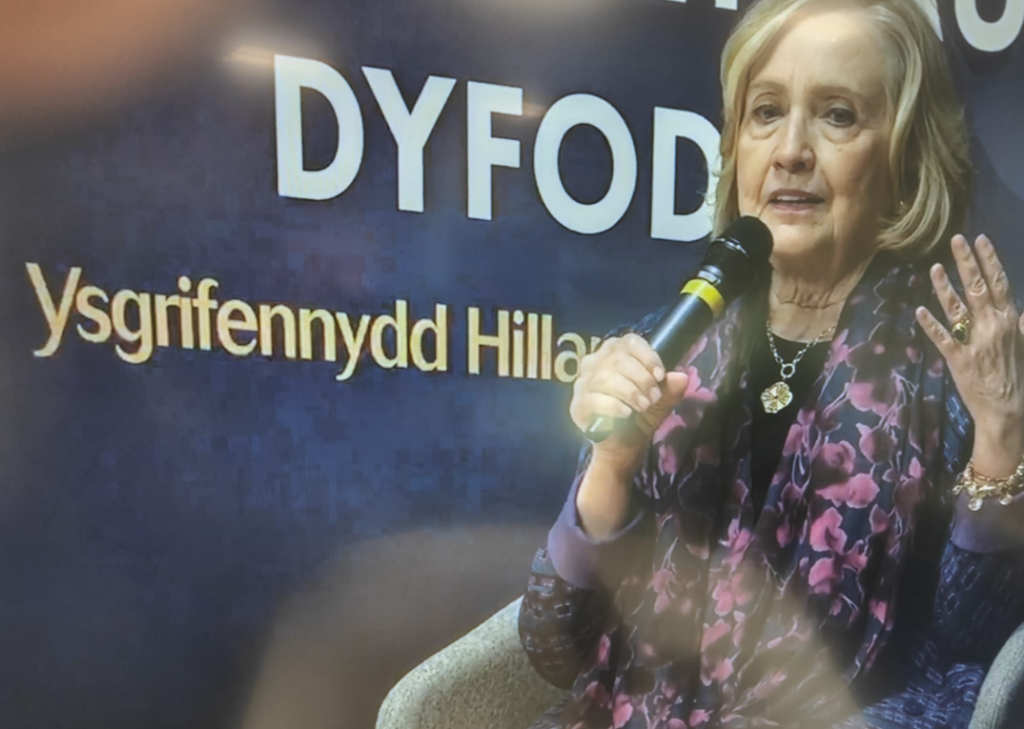 2:43 – "The US is a nation of immigrants." Secretary Clinton then references her ancestral history. She adds that "we need a functioning immigration system, we need enough personnel in our borders so that those are worried about the new looks of immigrants can be assured that their governments are running a very efficient system" and that "we need a functioning immigration system for the US".
2:46 – "We need to get to a point where we can put in the resources and personnel to have a system which people will respect and believe is working, and we need to call out those politicians who are thriving on anti-immigrant feeling and limit their influence." – Secretary Clinton.
"The fear of migrants is the fear of difference… Somehow we need to get to a point where we can put resources and personnel for people to trust our processes" . She concludes with the resolution that "we need to tell a better story".
2:49 – Professor Boyle introduces the issue of the climate emergency and asks the First Minister about how Wales can meet it's targets. "The climate crisis is a fundamental threat to our existence" he says, and "the Welsh Government is committed to Net Zero by 2050 – how do you see Wales achieving this target?"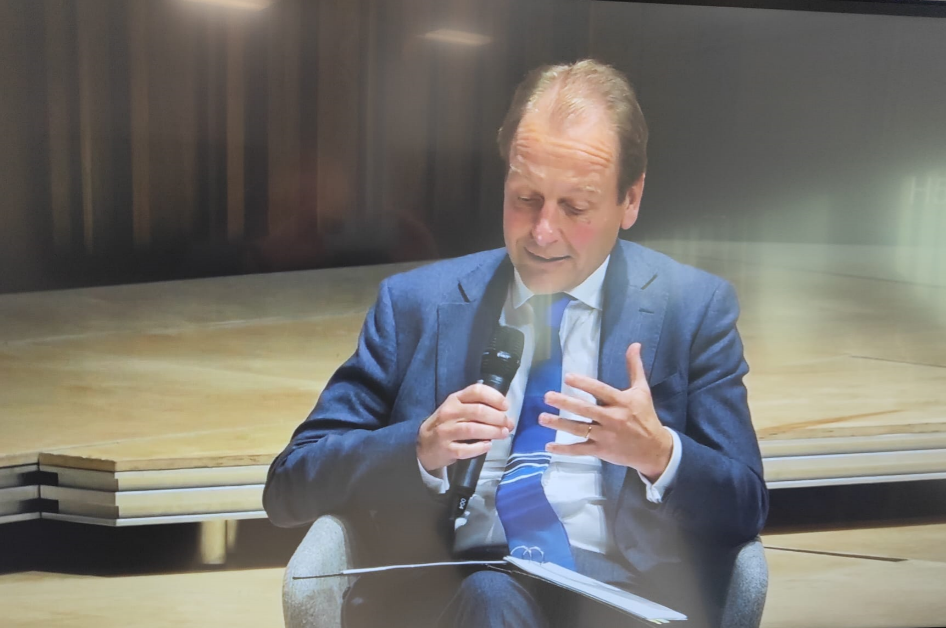 2.50 – The First Minister responds : "The sense of understanding what we can do ourselves and what difference we can make can contribute to a renewable future for Wales...54% of all electricity used in Wales last year came from renewable energy. We can move that to 100%" and adds that "It is better to cooperate with others rather than have wasteful competitions".
2.55 – Professor Boyle asks President Clinton "How can we overcome our carbon challenges?"
"Wales has made fewer excuses and more progress than any other place in the world" he says, adding that "You have opportunities here that someone in Arizona doesn't."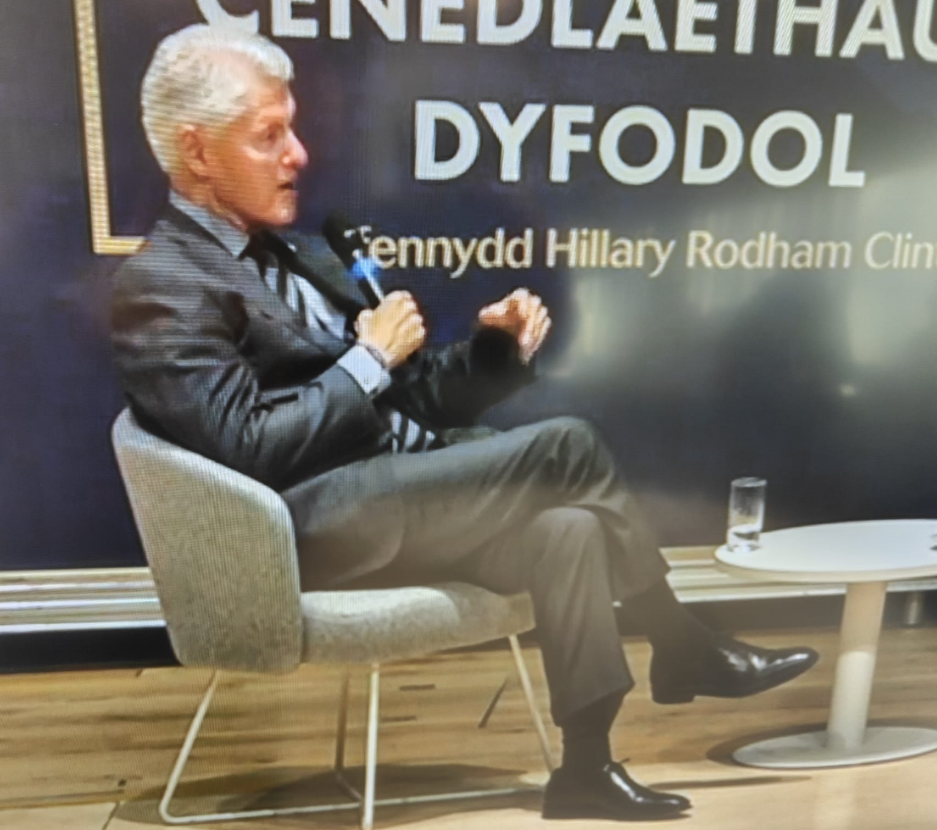 3.00 – "We have to look at what options we haven't thought about before, like urban farming, building new developments. There are questions about whether we can change the environment to buy us more time – can we push off the day of destruction?" he says, concluding that we should all "Maximise efficiency and maximise the jobs created through renewable energy".
3:02 – "How do you think we can support unborn generations in meeting tomorrow's challenges?" – Professor Boyle asks Secretary Clinton.
3.03 – Secretary Clinton says that "We are short on patience and long term thinking, and we have an abundance of impatience. I wish there were a way we can make this a call to action following on Wales' example for other countries." adding that "So many of the decisions made today are short-sighted" .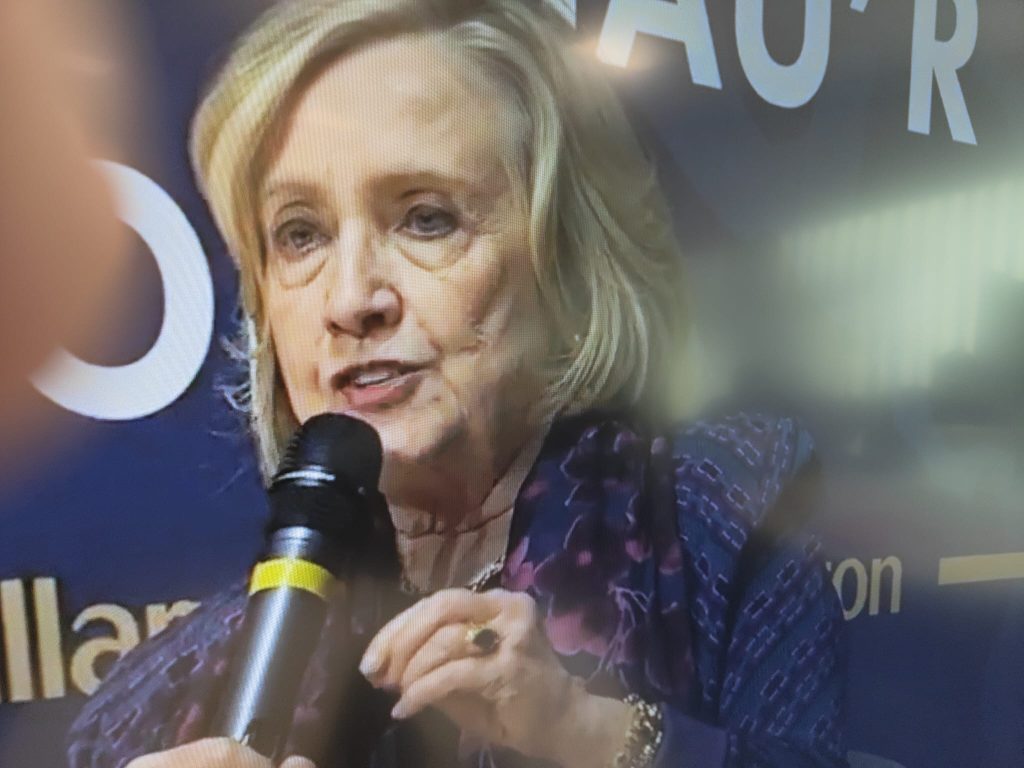 "I think this whole question about future generations needs to be much more prevalent in our politics, and people who run for office and are in office should be asked much more often and held to account:..How is the decision you're making today going to affect my future and the future of my children and grandchildren?"
"People need to be held to a higher standard of being future oriented" adds Secretary Clinton, noting that "Young people should ask leaders 'How are the decisions you make today going to affect me in future? .. leaders should be held accountable".
3.05– "Let's start by protecting old growth forests, planting trees native to regions, lets enlist people to be willing to go out and plant tree, lets use technology like drones to plant trees, and let's be creative about this." – Secretary Clinton on a plan for the future to plant trees 
"You can take old buildings in Swansea and use to generate renewable energy, and that can be done anywhere else" adds Secretary Clinton, concluding that "There are so many things we can do right now to make the future generation more liveable."
Meanwhile our blogger team are keeping pace brilliantly…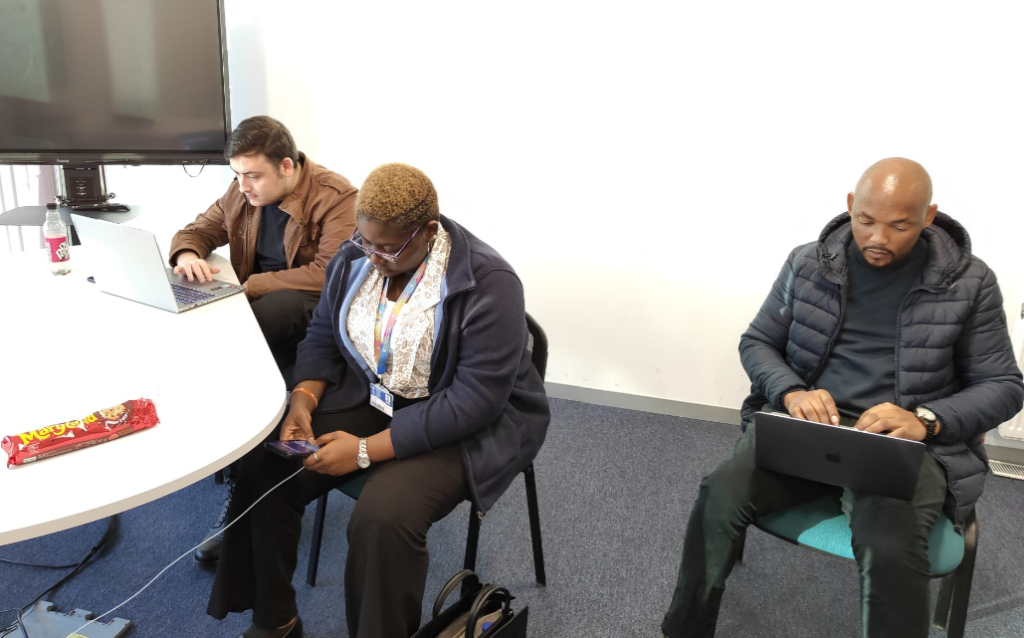 15:07 – Last question before an audience Q+A. Professor Boyle concludes the discussion by asking "You've all been leaders on the world stage.. I would like you to reflect on whether we are doing enough and what more can we still do?"
3.08 – Secretrary Clinton advocates that we should "hold your leaders accountable with what they say and what they do…Citizens have to be more willing to support the producers and don't vote for the performers. They're not in it for you...Citizens have to be more willing to support the producers".
She signs off by suggesting we "smile at the performers but don't vote for them !"
3.12– "I think it's important to recognise that there are voices asking for recognition that may be called populist…There needs to be, depending on the facts of the community where you live and work, to develop positive influences and populism and fight negative influences and negative populism."– President Clinton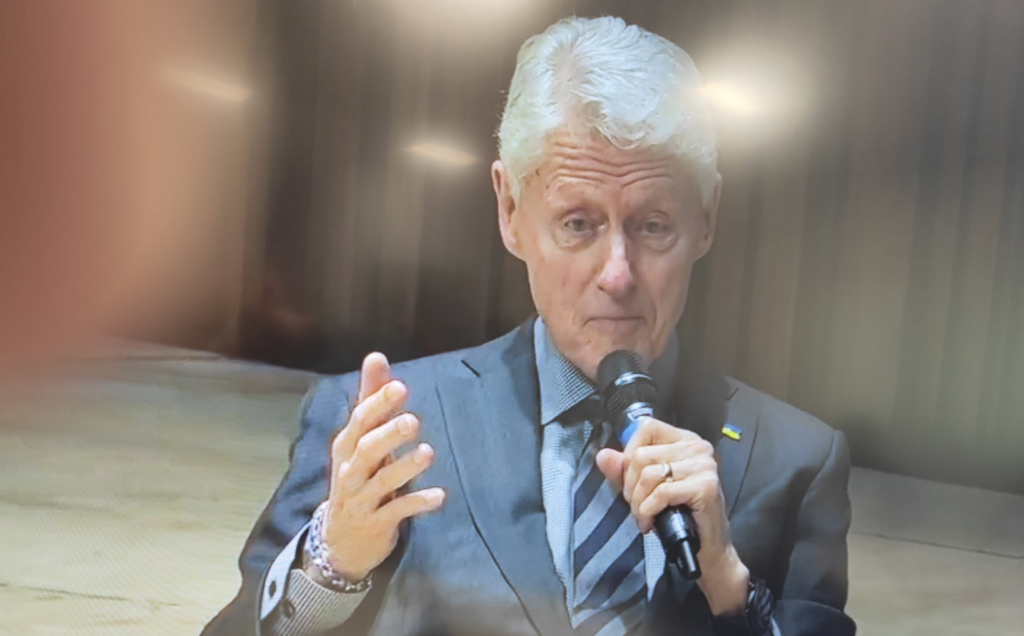 First Minister Drakeford answers "I am attached to the idea of democracy of expertise and experience. That means that every single person in this hall is a leader… The easy thing to do is ask what can somebody else do, the hard thing is to ask yourself what can I do?"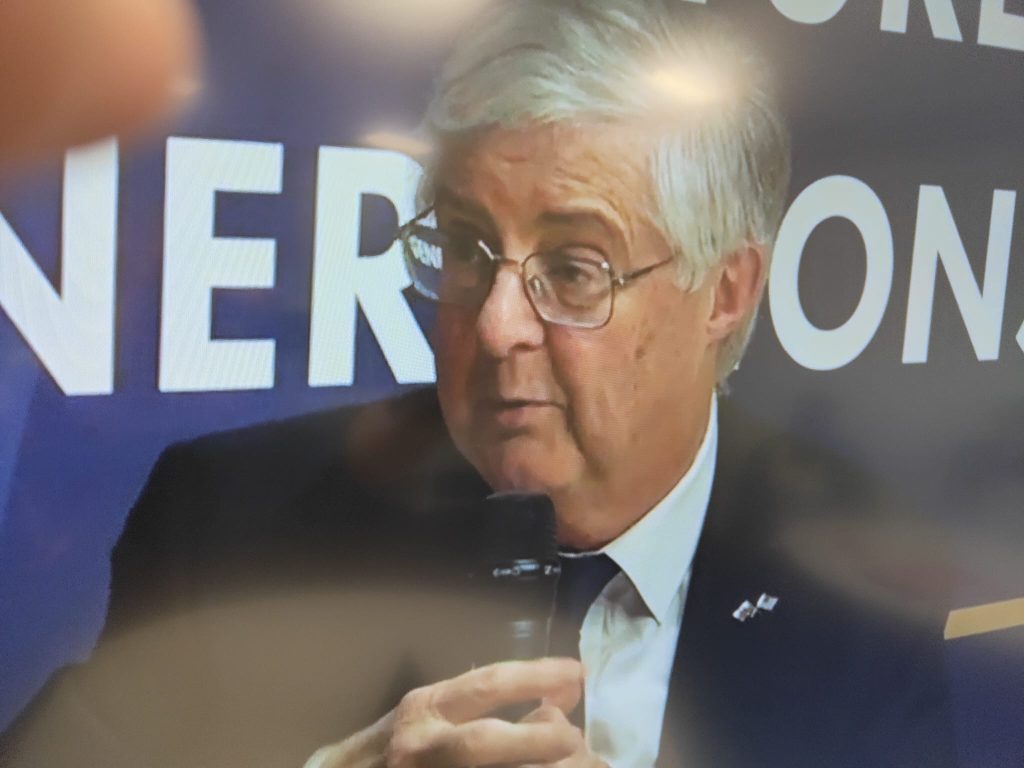 3.20 Aaron from Olfcha asks about being active in Politics. "Spend time with people who are different from you, learn from them, let them learn from you" says President Clinton, adding that "you can get a PhD in Politics just by listening and watching".
3.25 – Amber Foster from Bishop Gore School asks a great question – "What's the worst piece of advice you've been given ?"
"Don't run for President, it will be extremely difficult, which was meant in the best possible way" says Secretary Clinton, but "I've lived by the idea that you take criticism seriously but not personally."
3.27 – Clement from Gower College – "What can I do, as a Welsh citizen, to work towards the 17 UN Sustainable Development Goals?"
"Don't ignore the small things" says the First Minister, "but be ambitious and have the confidence to go hard for your ambitions".
3.29 – Rebecca to President Clinton "Excluding any academic pursuit, are they any other activities you wish you could have taken earlier in life?"
The President replies that "I think it would be a good thing if everyone who gets out of high school was fluent in a language. It would be good for America too, it won't make us look like an imperial power where we expect everyone to speak English".
3.32 – Jed Thomas from Bishop Gore – "Is there a job you would have loved to have done if you weren't in politics, and Mr Drakeford can you get rid of the 20 mile an hour speed limit please?" – the audience erupts into laughter !
"I'd have loved to open the batting for Glamorgan" says Mark Drakeford. (The Mumbler editor purrs with appreciation and approval at this reference to cricket) but also thanks Jed for the road legislation advice, which he says he won't be taking !
3.33 Frances from Gower College – "How can future leaders retreat from polarisation in politics?"
"It's always important to find common ground where possible.. I personally worked with Republicans to make progress on many issues we disagreed on" says Secretary Clinton. She adds that "There are things leaders should and can do, and there are things voters should and can do… There are forces from the outside who are truly trying top divide us, spreading false narratives…" She concludes with a caution that "we should ask ourselves 'How do I reward respect and trust and not disrespect and failure.. 'In the era of generative AI it may be difficult to know who and what to believe".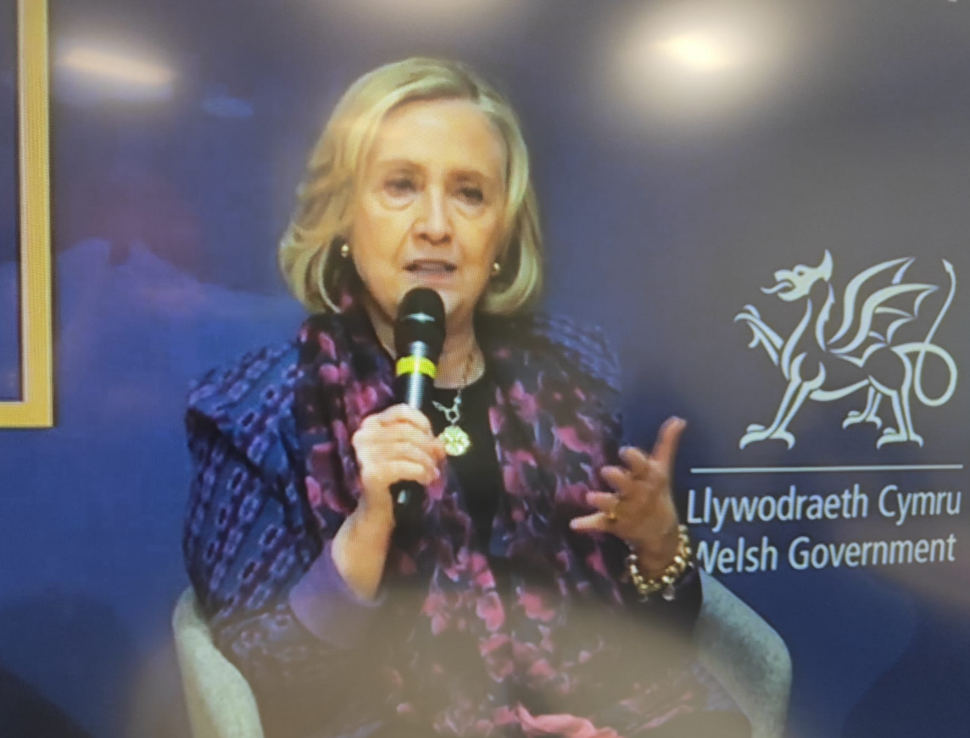 3.41: Professor Boyle concludes the Q+A to huge applause from the audience who really seemed to enjoy the fascinating discussion.
And that's it from the blogger team – they did a wonderful job this afternoon – Winner, Patrick, and Morgan. The Mumbler and Media dept is very proud of all the students who worked on the event today.