My first experience working as a runner on location
Fy mhrofiad cyntaf yn gweithio fel rhedwr ar leoliad
Tomas Johnson, a second-year Media and Communications student, discusses his experience as a runner for a day on the set of 'Teulu'r Castell' (Translated as 'The family of the Castle'), a production by Little Bird Films which focuses on Llansteffan Castle. Tom has an interest in working in the production industry, after studying modules such as 'MS228: Introduction to Video Production'. This article is an account of what the role of a runner entails, what his first experience as a runner was like and what his plans are for the future.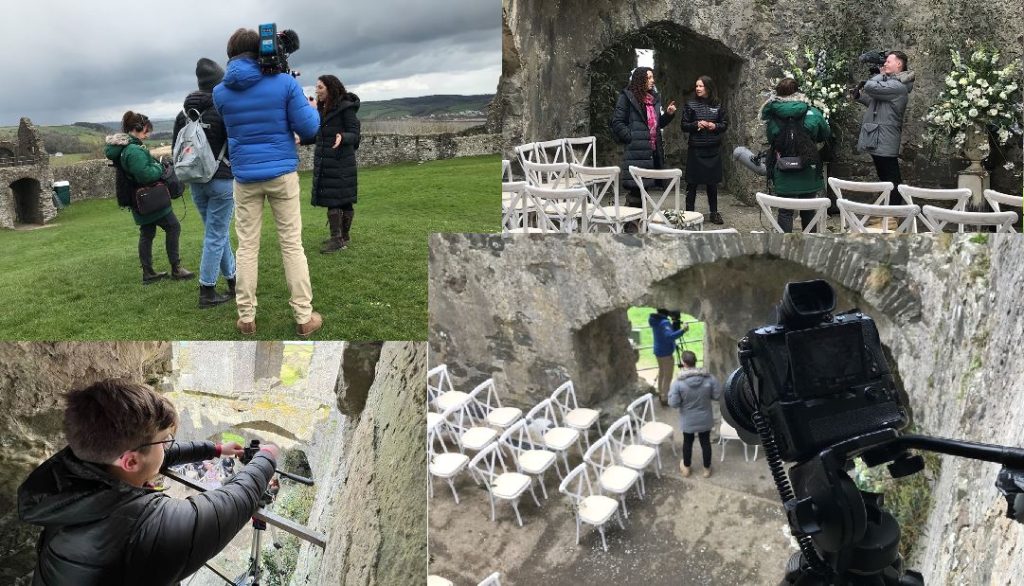 Yn gyntaf, mae'r rôl rhedwr yn syml iawn – mae rhaid i chi fod yn barod i wneud llawer o wrando, llawer o gerdded a llawer o gario. Dydy'r rôl ddim y fwyaf technegol yn y byd. Fodd bynnag, mae'n borth gwych i'r diwydiant cynhyrchu gan eich bod yn dod i adnabod pobl sydd yn gweithio yn y diwydiant ac hefyd mae'n gyfle da i ddysgu wrth bobl sydd yn brofiadol yn y maes.
Ar yr 2ail o Ebrill eleni cefais y gyfle i fod yn rhedwr ar y gyfres S4C newydd, 'Teulu'r Castell', sydd yn dilyn teulu sydd wedi prynu Castell Llansteffan yn ddiweddar. Ar y diwrnod roeddwn i yn gweithio ar set, roedd y castell yn cynnal priodas am y tro cyntaf erioed.
Ar ddechrau'r dydd, roeddwn i'n nerfus yn cwrdd â'r criw, ond naethon nhw wneud i fi deimlo yn gartrefol o'r dechrau. Roedd pawb a gymerodd ran yn hynod o garedig ac roeddent yn caniatáu i mi gymryd rhan yn y gwaith. Am y rhan fwyaf o'r dydd fy rôl oedd cario'r offer ffilmio a nôl lluniaeth i'r criw. Pan gynhaliwyd y briodas, roedd aelod o'r criw, Glynn Rainer, yn caniatáu i mi weithredu camera – er fy mod yn teimlo elfen o bwysau, roeddwn yn hapus i gael rhywfaint o gyfrifoldeb.
Ar y cyfan roedd yn ddiwrnod gwych, cyfarfûm â llawer o bobl gyfeillgar a chefais brofiad gwerthfawr. Yn y dyfodol, dwi'n gobeithio y gallaf gael mwy o gyfleoedd fel hyn er mwyn parhau i adeiladu fy mhortffolio dros y blynyddoedd nesaf. Ar ben hynny, rwy'n bwriadu gwneud lleoliad â thâl gyda chwmni cyfryngau'r flwyddyn nesaf, felly bydd hynny hefyd yn brofiad dysgu da i mi. Dwi'n gobeithio mai'r profiad hwn yw'r cam cyntaf i'r diwydiant.
GWYLIWCH FAN HYN / CATCH UP HERE: https://www.bbc.co.uk/iplayer/episodes/p0bzyj45/teulur-castell